SMELLS LIKE OCTOGENARIAN SPIRIT
Anthony Hopkins Made a Genderless Fragrance Just for You
The 82-year-old actor, painter, and TikTok star is making yet another career pivot.
---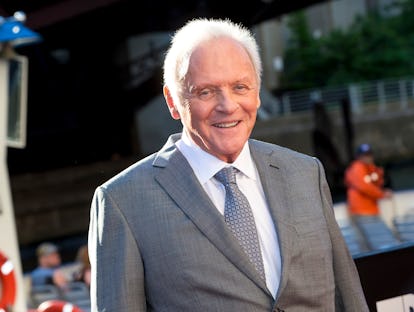 Michael Hickey/WireImage/Getty Images
While overshadowed by the pandemic, the world is on the brink of a hunger crisis that could kill more people than the coronavirus itself. So when Sir Anthony Hopkins learned that one in four children in America could go hungry by year's end, he knew he had to step up. Activism isn't unusual for Hopkins; philanthropy has become just as much his focus as acting in recent years. But instead of lending his voice to a Greenpeace campaign or funding his hometown's YMCA, this time, the 82-year-old decided to change things up. To raise money for No Kid Hungry, he started a fragrance brand.
"The idea for these fragrances came up because… it just did," Hopkins said with a laugh from his painting studio in L.A. "I've always liked fragrant candles, and the smell of flowers from my childhood like gardenia and orange blossom. They had quite an effect on my early life, and then my whole life as an actor in a kind of subconscious way. Fragrance is a form of meditation—to me, anyway."
Perhaps most intriguing about Hopkins's new venture: Its centerpiece, AH Eau de Parfum, is genderless. That was "very important" to the actor, who wasn't even trying to make a statement; it came to him naturally. "It's open to everyone who chooses to use it," Hopkins said. "You know, I've had an extraordinary life. I'm very grateful for my life. And I'm very concerned about young people, especially kids, whose dreams have been dashed. There's so much pain in the world and I wanted to give back, to alleviate that—to bring something, even if it's this." Each of the brand's offerings, which include diffusers and scented candles, funds up to 50 meals for children in need in the U.S. (They retail between $45 and $75.)
Genderless fragrance is just the latest of the octogenarian's surprisingly modern pursuits. His wife Stella Aroyave, who is 64, has been the mastermind behind his social media presence for years, but in quarantine, Hopkins finally "embraced it." His favorite platform is Instagram, though he's most active on TikTok, diligently following the countless memes and trends. He made his debut on the app with the Tootsie Slide dance, challenging Arnold Schwarzenneger and Sylvester Stallone to do the same.
Schwarzenegger's is the only account Hopkins follows on TikTok. When asked who he enjoyed following on other platforms, he responded simply: "I don't." He "has some fun with" social media, but thinks of his "humorous" posts as more of a selfless act—a way to brighten people up. (That's also why he wears so many vibrant Hawaiian shirts.)
As with painting and playing piano, Hopkins doesn't overthink it. He simply lights a candle or incense, lets the "sensory impact" take over, and creates. (Hopkins is mystified as to why, but it's often faces that come to him; they're all throughout the designs for his brand.) And that's what work has been for Hopkins in quarantine—along with exercising and generally "just enjoying [him]self going crazy." He hasn't been thinking about his acting career, watching TV, or seeing friends. Occasionally, he watches movies—though never of the horror variety. "Why watch stuff like that?," he said. "Who wants to? I don't."
Related: Anthony Hopkins Is Surprised How Popular His Paintings Are