Pedro Almodóvar Told Antonio Banderas He Had a "Very Romantic Face"
The Pain and Glory star—who's up for Best Actor for his role in the movie—discusses working with the Talk to Me director, his mother sewing hidden pockets in his slacks when he was a child, and more.
---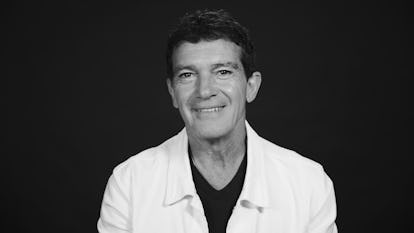 The actor Antonio Banderas was first told he should pursue acting from an unlikely person: filmmaker Pedro Almodóvar. The director responsible for Volver and Talk to Me passed by the Pain and Glory star on the street, and noted his good looks.
"I was 19 years old, and I was just having a coffee with some friends in a terrace outside of the theater, waiting to get in, and suddenly a guy appeared with a red briefcase of plastic," Banderas explains in his Screen Tests interview with Lynn Hirschberg. "He was very ingenious. He just took over the table, and just talk, and talk, and talk, and talk. He was funny, fast, [a] thinker, and witty. And then he stood up to leave, and he looked at me, and he said, 'You have a very romantic face, and you should do movies.' And I said, 'Sure. Whatever.'"
Luckily, Banderas took Almodóvar's advice: he's currently nominated for a Best Actor Academy Award for his role in Pain and Glory, which he worked on alongside director Almodóvar himself.
"When an Almodóvar script arrives, you read it almost immediately," Banderas adds.
Related: The Best Advice Cynthia Erivo Ever Got Was From Oprah