Mourning Glory
Singer-songwriter Antony Hegarty is reborn with the premiere this month of his first major work for the stage: Robert Wilson's The Life and Death of Marina Abramović.
---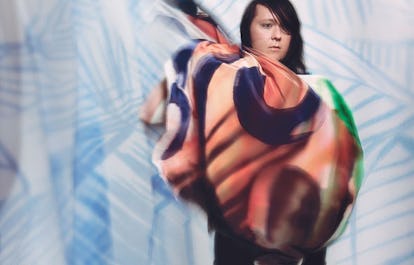 With a voice that flutters between a high, quavering vibrato and a lower register with all the richness of a soul singer, Antony Hegarty of Antony and the Johnsons possesses what is arguably the most distinctive, ravishing instrument in popular music. Like his idols Nina Simone and Boy George, he doesn't hold back: Eschewing camp dramatics, he favors an unadorned singing style steeped in both sorrow and transcendent joy. Lou Reed vividly remembered the first time he experienced Antony's multioctave palette on I Fell in Love With a Dead Boy, an EP that his producer brought to him while the two were casting vocalists for Reed's 2003 album, The Raven. "I heard about 15 seconds of it and said, 'Oh, my God, we've got to find him,'" Reed told me. "He was amazing. And it turned out he was about 10 blocks away. Who knew?"
Reed immediately tapped Antony to sing on The Raven and invited him along on a world tour, then tirelessly championed the British-born singer until Rough Trade finally signed him in 2005. Nine months later, Antony's breakthrough album, I Am a Bird Now (featuring Reed, Boy George, and Rufus Wainwright, among others), snagged Britain's most prestigious music award, the Mercury Prize; collaborations with Björk, Laurie Anderson, and Marianne Faithfull followed.
"Ant can do things that very few people can do," Reed said. "He can break your heart, hold your attention. It's such emotional singing. The only other person I've been around who could do that is [legendary jazz singer] Jimmy Scott, and we all bow at the altar of Jimmy Scott. But Ant can get up there with Jimmy. You don't find this kind of combination of intensity, range, perfect pitch, writing skill, delicacy, and power."
"You know, Lou is not somebody who is easily tender," performance artist Marina Abramović, who is close to both men, pointed out, "and with Antony he just melts. He's very protective of him." Abramović was at Carnegie Hall at a 2006 Christmas concert by Wainwright when Antony launched into "Snowy Angel." "I literally stood up from the seat and started crying," she recalled. "The voice was like something out of this world, but also it was how he was moving himself—the strange, spastic hand movements, the way he was possessed by the music and his body could not fight it." Soon after, she invited him to sing at her 60th-birthday party at the Guggenheim Museum, and even over the din of 450 dining guests his voice commanded the atrium. Soon "there was complete silence," recalled Abramović. "The next day the artists, the trustees…everyone there was Googling him."
This spring Antony joined Reed, Patti Smith, Yoko Ono, and Sean Lennon for To Japan With Love, a benefit concert at Le Poisson Rouge, a small club on Manhattan's Bleecker Street. A few hours before the show began, he was uptown having dinner with Abramović and Riccardo Tisci, Givenchy's artistic director, who designed costumes for the singer's 2009 tour. Antony is six feet two, with a lumbering gait and the round, benign face of a medieval monk. His dyed black hair falls past his shoulders, framing his pale skin, and his blue eyes are fringed with the blondest lashes and feathery brows. Though he's worn his share of theatrical getups since his days on the club circuit, that night he was dressed in his current costume of choice: a sand-colored T-shirt with brown squiggly lines worn over a slouchy-sleeve beige one, black flat-front pants, a black zip-up cotton jacket, and weathered leather ankle boots with the tongues hanging out like that of a beagle's on a hot day. "I still hide in my clothes a lot of the time," he had confided to me two weeks earlier. "I'm quite, you know, voluptuous. But I say that through gritted teeth."
At dinner, the conversation turned to the holiday they all planned to take together this summer. (Antony was also dying to know if the rumors were true that Tisci was about to succeed the befallen John Galliano at Dior. "So far, it's not true," he told Antony. "No one at Dior has asked me.") Most pressing, though, was The Life and Death of Marina Abramović, the multimedia theater piece set to have its world premiere this month during England's Manchester International Festival before traveling to Madrid, Basel, and possibly New York. Directed by Robert Wilson and costarring Willem Dafoe, it features original music written and performed by Antony—his first major commission.
Antony and Abramović, who plays both herself and her mother, have been spending a lot of time together. By her own account she's a terrible singer, but Antony convinced her to make her musical debut in the song he wrote for her, "Salt in My Wounds," about her propensity to lay herself bare in her work, a trait both artists share. The opus is bookended by two funerals, with Antony singing at the final one, which concludes with the raising of Abramović's soul. "He's absolutely transcendental in that scene," she told me in her rolling Serbian accent, noting that even before they began working on the piece, she'd already left instructions for Antony to sing "My Way" at her actual funeral.
The two spent New Year's Eve together at her country house in upstate New York. At midnight they, along with Terence Koh and others, lit candles outside and made snowmen. "Well, actually the boys made a snowman," recalled Antony. "So Marina and I ganged up and made a snow woman. It was genius 'cause she was the biggest." Antony is witty and self-deprecating in person, with a goofy, disarming laugh. He thoughtfully parses questions in a quiet, low-pitched voice, with only traces of his native British accent.
"There is a radius of deep water around him that you dive into in his presence," said Björk, who performed a duet with Antony in Icelandic on his most recent album.
Such soulful depths mask a flinty determination. "He knows exactly what he wants, and trying to stop him is like trying to stop a freight train," noted longtime collaborator William Basinski, an ambient sound composer, of the drive that has helped Antony navigate the tricky crossover from club scene to concert stage. When he first arrived in New York in 1990, Antony shaved his head, dyed his eyebrows blue and yellow, and wore slips and combat boots. For good measure, he inked the words fuck off on his forehead to ward off the curious. These days he's as likely to wear organic cotton T-shirts as he is custom-made capes; onstage he has cocooned himself in mohair sweaters, ruffled collars, and Grecian gowns.
From his earliest days, Antony explained, his gender was ambiguous. "It was always clear to everyone that I was transgender, or whatever they would have interpreted that as being. There was no coming out for a kid like me—I was never in." The term "transgender," he was careful to note, encompasses "a huge realm of experience," with his own definition avoiding easy notions of duality. "I have access to masculine and feminine aspects," he said, "although obviously there's a limitation to both of those things. I have an experience that's unique to being me, which isn't just being stranded between two things. It's another frontier, with its own expansive possibilities."
Only after much hesitation did he reveal that he's in a romantic relationship. "I give everything," Antony said, "so I like to put a gentle shroud around these little treasures of privacy."
Antony began singing as a boy in the choir at his Catholic elementary school, and then in the death rock band he formed as a teenager after his mother bought him a keyboard. Born in 1971, the second of four children, he spent his earliest years southwest of London in Chichester, West Sussex—though his father, an engineer, and his mother, a photographer, moved the family to Holland before settling in San Jose, California, when Antony was 10. At home, his mother blasted Laurie Anderson's experimental debut, Big Science, and produced slide shows for art museums. "Her sense of fantasy—seeing the world in a more twinkling way—had a big influence on me," Antony said, recalling the cartoons and crafty things he made as a kid.
At the arts high school he attended, he wore his black hair teased and was "borderline anorexic," he said, trying to be beautiful "so a man would like me." By then, he'd discovered Boy George, the first transgender reflection of himself that he saw in the greater world. George's "intense beauty aesthetic" resonated with Antony, as did his voice, "pouring with emotion." (Many years later the two sang together on Antony's "You Are My Sister," and they remain close.) Of course, David Bowie had flirted with gender-bending a decade earlier, but Antony noted a critical difference: "When Bowie adopted effeminacies, it was plumage, almost the prowess of a mating ritual. Whereas with George it was a revelation of his femininity, which was so much more dangerous because of the extremity of his tenderness and the incredible power of his music."
It was Mondo New York, a cult documentary about Manhattan's demimonde, that drew Antony to the East Village in 1990. He was 19 and had been staging plays based on John Waters movies at the University of California at Santa Cruz. Soon Antony was enrolled in the experimental theater program at New York University, where he began turning himself into a historian of the avant-garde, tracing his own artistic lineage back to drag performance artists Jack Smith, German androgyne Klaus Nomi, and the Cockettes, a cross-dressing hippie collective.
But he arrived just as AIDS was decimating the downtown arts scene. That sense of loss found its way into his early works at the Pyramid Club, then the epicenter of the city's performance-art scene, where he appeared weekly with Blacklips, a troupe he founded with his friend Johanna Constantine. In outrageous, gory shows—sometimes involving offal from nearby butchers—Antony and costars with names like Psychotic Eve and Kabuki Starshine channeled outsize versions of themselves. What made Antony stand out, though—his songs usually closed the shows—was not only his arresting voice, which pierced all the irony, but also the fact that he was utterly sincere. "He was the opposite of camp, which in that scene was a new thing," recalled Pyramid regular Charles Atlas, an experimental filmmaker who later directed the music video for "You Are My Sister."
Ivan Grundahl's black shearling jacket; Givenchy by Riccardo Tisci's white cotton T-shirt. Styled by Joie Iacono.
In 1997 he formed Antony and the Johnsons, a loose and rotating backing-band collective, to concentrate on his music. Its eponymous debut album was recorded over two weeks that year and was self-released in 1998. But when the major labels kept passing on him, Antony despaired of ever breaking through what he calls "the sound wall." Starting around 2002, though, a new generation of musicians such as Devendra Banhart and CocoRosie—part of an emergent genre known as freak folk—paved the way for the acceptance of a new kind of music. "They opened doors in youth culture that were more dreamy, more flexible," Antony said. This new mood, along with Reed's advocacy, led to his deal with Rough Trade.
I Am a Bird Now is full of haunting, uplifting chamber songs, with subtle arrangements that deliver an emotional wallop. The cover features Peter Hujar's 1974 deathbed photograph of Candy Darling—"the Mona Lisa of underground photography," Antony called it, for its depiction of the cross-dressing Warhol Factory superstar as a vision "suspended between darkness and light, male and female, flesh and ghost."
Not surprisingly, it has served as a kind of creative touchstone. At the time of the album's release, Antony had already put his stamp on "Candy Says," the Velvet Underground song that made Darling infamous. "Ant understands it in his pores, like I wrote it for him," Reed told me. But while Antony's version of "Candy Says" is a fairly faithful rendering of the original, his 2007 cover of Beyoncé's "Crazy in Love" transforms a rollicking party anthem into a soulful, searing lament for an absent lover. Though Antony has long sung of unfulfilled love and imagined selves—of growing wings or of becoming a spirit or a beautiful woman—on Swanlights, released last fall, he turns his gaze outward to muse on the fragility of the wider world. "Musically, he banks on simplicity put in relief of great complexity," said composer Nico Muhly, who contributed to the album's arrangements. "Antony's is a deliciously acoustic world, almost old-fashioned."
This past spring Antony was invited to perform in Long Beach, California, at the TED conference, the annual confab of brainy futurists and technologists. His three-song set capped an afternoon of mind-blowing multimedia presentations. In the midst of his hushed performance in front of the assembled machers at this wired pep rally, Antony said softly,­ "I've heard so much talk about development, but I didn't hear anyone talk about retreat." Upon leaving the stage, he said to me, "I think I dropped like a stone. I might have been too confrontational."
"I'm really at odds with my stage presentation right now," he had told me earlier, in the lobby of the Hyatt hotel on his way to a session curated by Bill Gates. "When I make the music, I'm so careful with it. I really prepare it. And then there's this horrible out-of-control feeling that I get about being a visual presence in my work. As I've gotten older, what I've been left with is, Why are all these people looking at me? What do I want them to see?"
For the past few years Antony has been filling sketchbooks with drawings; more recently, he started painting in oil. "All the walls are just covered with projects," he announced one morning when we met for breakfast at the SoHo Grand Hotel. Antony was on his way to a studio he'd borrowed from a friend so he could pin 10-foot-long sheets to the wall in order to paint on them. He entered the room looking like some sort of extra from a Harry Potter film in a custom-made circular black corduroy cape by Creatures of the Wind, which he had wound around his neck like a scarf so that his face looked as if it were floating on a cloud of fabric.
In tandem with the release of Swanlights, Abrams published a volume of Antony's artwork. His recent paintings evoke a natural world disrupted,­ then realigned, according to his own magical thinking. His found images of landscapes, many from old copies of Life, are often dunked in a river, dried by a fire, and coated with thick white paint, over which he's drawn lines or circles, dripped wax, or pasted shards of mirror or coils of thread. Usually the paper's edges are burned, or a hole is cut out.
Despite his increasing output across many disciplines, Antony claims no far-reaching game plan. "It's a little like growing hair and fingernails," he said of his process. Sometimes a melody will hit him and he'll just sit down and plunk something out on the piano. But more often a fragment of something pops into his head while he's walking down the street and he simply records it on his phone.
He usually works at home, in an apartment that's "like a petri dish of my thinking," he said, dotted with crystals, stones, bits of glass, corroded­ metal, branches, and fabric. "Seeing his apartment is like looking into his soul," Abramović said when I aked her to describe it. "When you go to most people's places,­ they will have the same things for years. With him, it's never like this. If he's working, it's full of things. When he feels the need to reduce, he takes everything from the walls and it's very empty, kind of monastic, very white. So it's changing."
One thing that hasn't changed is the poster of Japanese Butoh dancer Kazuo Ohno that has hung over Antony's bed since he was 16. He calls Ohno his "art father," and met him once, just long enough to shake his hand, and then again last year in Japan, as Ohno lay in a semiconscious state at age 103. The dancer's family had Antony's songs playing in the room. (The singer dedicated his 2009 album, The Crying Light, to Ohno and pictured him on the cover.) Ohno died last June; in October, when Antony performed at Alice Tully Hall in New York's Lincoln Center with a full orchestra behind him, there looming over the stage was Mr. O's Book of the Dead, a 1973 film about gender and ambiguity, starring Ohno and his troupe.
Tisci, in the audience that night, was so mesmerized by the film that he promptly used it as the inspiration for his spring 2011 couture collection—even though the one he'd already designed was in the works in the Givenchy atelier. Tisci recalled Antony's protectiveness: "I asked him, 'Can I use as inspiration something that belongs to you?' And he said, 'Yeah—but please be respectful, because he's my god.'"
This past April Antony released a music video of the Swanlights title song, a haunting reverie directed by his sister Sara. Now he's pondering his next move. "I feel that I've almost finished a body of work—20 years' worth," he said. "I don't know what the future holds, but it will probably be characterized by change. Joy is something I'd really like to pursue—dancing music that would lift the spirit. That's an exciting frontier for me to explore."