Anya Hindmarch Loves Vintage Ossie Clarke, Loathes Uncomfortable Clothes
The designer shares the philosophy behind her playful-chic style.
---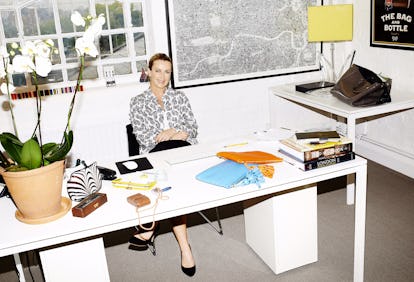 For over twenty years, fashion and accessories designer Anya Hindmarch's wares have been coveted by It girls and celebrities the world over, and now she's upped the anti with a series of technicolor Sticker Shops that allow her customers to add their own spin to her luxe leather wares. With her playful stickers and customizable bags, Hindmarch champions personal style. Here, we take a look at hers.
Define your style in three words: Functional, Comfortable, Feminine.
Daily uniform: A cream silk blouse and navy blue or grey tailored trousers with a pair of Gianvito Rossi pumps or, mostly white trainers.
Greatest hits: I have a vintage Ossie Clarke dress I treasure and a very beautiful Celine trench, a forever piece.
Preferred footwear: I'm ashamed to admit… flats!
Finishing touches: A handbag of course! I'm carrying our stickered-up Maxi Featherweight Ebury; it has bold embossed graphics inspired by stickers that were my schoolgirl version of personalization. It's such a fun piece but with the most beautiful craftsmanship.
Nighttime look: I have a heavenly black Stella McCartney velvet tuxedo suit. I'll wear it with one of our Crisp Packet clutches in a bright color.
Best recent discovery: Breakfast in a London cabman's shelter! They are green wooden shelters dotted all over the city that serve refreshments to taxi drivers. They are absolutely tiny inside; you can get a maximum of 10 people in them. Most do not allow non-taxi drivers in but one or two do and they serve the best bacon sandwiches and mugs of tea. The perfect English breakfast! There is one opposite the Royal Albert Hall near my bespoke store on Pont Street. You can queue up and get a sandwich and cup of tea to take away, and in nice weather sit in Cadogan Gardens nearby.
Favorite stores: If my husband would allow it, I would spend every Saturday at Lassco in London. It has the most incredible range of curiosities. I've bought [everything from] reclaimed floorboards to bathroom taps from here. Abe Books is wonderful for rare and vintage books—I could spend hours there.
Style pet peeve: Being uncomfortable in what you're wearing. Life is too short.
Last purchase: A pair of very particular Nike trainers for one of my sons. He dragged his younger brother and my dearest, patient (and very kind) friend to every corner of New York to find them on our last trip.
Lusting after: A couple more hours in the day, or days in the week.
Favorite haunts: The Royal Academy. I'm a trustee. It's a very special place because it is frequented by everyone from your granny to the most cutting edge artists. My favorite room—which you have to rather beg to get into—is the Life Drawing Room in the adjacent art school. The teaching takes place in the most extraordinary Victorian buildings, and as a member of the public you can book drawing classes there.
What's always in your bag: My perfume, from a 400-year-old scent shop in Madini—they will create a personal perfume blended to your taste. It comes in a beautiful small bottle allowing you to roll on the fragrance. I cherish the unbranded nature of it. I'm obsessed with craftsmanship and meeting those who create all these wonderful things we purchase. I always travel with various loose pockets from our labeled collection ('Medi Kit' for emergency headache pills, 'Girly Stuff' for a little makeup, and 'Cables and Chargers' are my favorites), which make sure I don't forget anything.
Spring wardrobe must-have: Dare I say stickers?
Photos: Anya Hindmarch Loves Vintage Ossie Clarke, Loathes Uncomfortable Clothes
Anya Hindmarch. Courtesy of the designer.
The Anya Hindmarch x Chaos Fashion Sticker Shop pop-up in Osaka. Courtesy of @AnyaHindmarch on Instagram.
Eva Herzigova, Anya Hindmarch, and Karolina Kurkova. Courtesy of the designer.
Looks from the Anya Hindmarch Fall 2015 collection. Courtesy of @AnyaHindmarch on Instagram.
"The art of #craftsmanship – creating the #SS15 #runway collection." Courtesy of @AnyaHindmarch on Instagram.
The Anya Hindmarch x Chaos Fashion Sticker Shop pop-up at Hankyu Umeda in Osaka. Courtesy of @AnyaHindmarch on Instagram.