Anya Taylor-Joy Is Your Real Life Weetzie Bat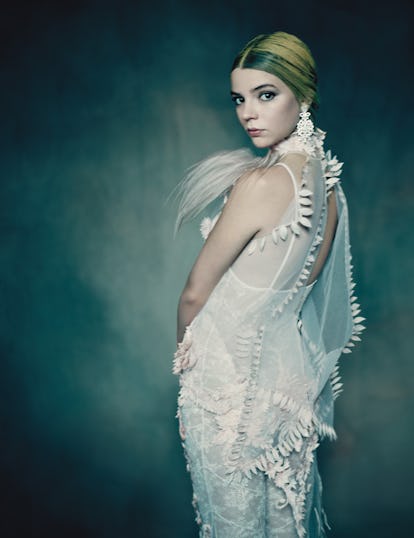 Photographs by Paolo Roversi, Styled by Edward Enninful.
What can we say? Anya Taylor-Joy has zero time for your mainstream rom-coms. Bring on the next indie! Another spooky indie!
The actress has signed on to her next project, taking the titular lead in a forthcoming adaptation of Francesca Lia Block's Weetzie Bat, Deadline reports. It never really became a mainstream novel upon its release in the '80s, so allow us to concisely explain what to expect: Weetzie Bat is a bit of an eccentric living in a dreamlike Los Angeles, where she enjoys being immersed in Native American culture and rockin' a punk aesthetic. She's your normal, content, "outsider" teen with a small group of friends, but her life soon takes a complete 180 when she's granted three wishes from a genie after finding a magic lamp. The wishes, in no surprise to readers, spectacularly backfire, making her angsty teen life all the worse. It's just like a punk Aladdin, without the unnecessary carpet activities! Nick Robinson and Keiynan Lonsdale will be starring alongside her, too.
Taylor-Joy has been one of the most promising young actors over the past year, where she's eschewed "standard" films in favor of daring, avant-garde roles that have easily earned her a Millennial Scream Queen nickname. There's a fair chance you've seen her in the horror-filled Split or slow-burn of a thriller Thoroughbreds, or even the unadulterated Puritan terror of The Witch. (Sorry, people who only like comedies.) "The biggest challenge is playing an awful human being and keeping the audience on your side despite that," she previously told W about her roles. "A lot of the acting was based on stage direction rather than dialogue, so I really discovered how much I could communicate with my face."
No word on when Weetzie Bat will be released, but at least we have New Mutants to tide us over in the meantime.