Early Look at the Ace Hotel
Its no-man's-land location of 29th and Broadway notwithstanding, the Ace Hotel New York (see our story in the new issue) set to open this February, is on track to attract a fashionable foodie crowd. April...
---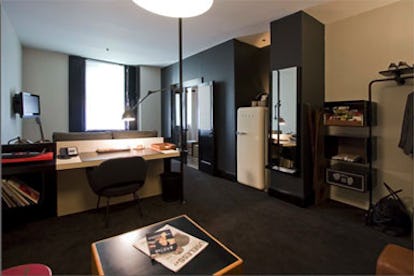 A model room in the Ace Hotel.
According to Friedman, in the past few years he and Bloomfield (who also just opened The John Dory) have been approached by "dozens of hotel people to do new hotels," including W Hotels and Morgans Hotel Group. The Ace won out, he says, because of Friedman's long-time ties with Ace founder Alex Calderwood. In the Nineties, Calderwood, then based in Seattle, was known for throwing "legendary parties" explains Friedman, who had a previous career as an exec at London Records. "I'd always see him when I'd go out to Seattle or Portland to check out bands."
Design firm Roman and Williams (they did Kate Hudson's LA house) will be giving the restaurant a turn-of-the century pub feel with an oak floor reclaimed from two different barns, a massive vintage bar and curtain-enclosed booths which, according to the firm's Robin Standefer, are a riff on Irish snugs (once used to shield ladies whilst they imbibed). There's still no word on their restaurant's moniker, though. "We've had a name for about six months and then I decided that I hated it," said Friedman.