April Release: Jennifer Aniston & Gerard Butler
In W's First-Ever Shopping Issue: Jennifer Aniston and Gerard Butler Role-Play, Your Spring Shopping List, W Editors Narrow Down Their Favorites, And W Works at Neiman Marcus- For a Day
---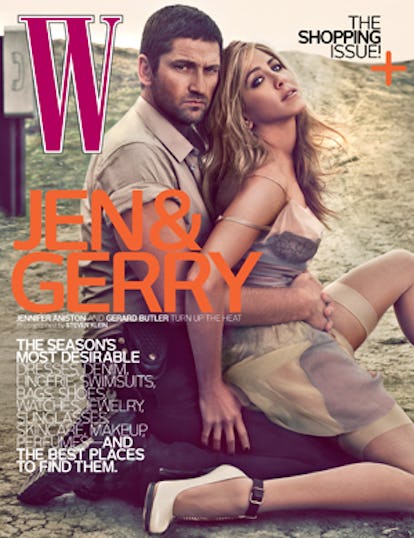 Highlights from the April issue of W magazine are below:
JENNIFER ANISTON & GERARD BUTLER, ACTORS- PAGE 124:
Inspired by their upcoming film, Bounty Hunter, outlaw Jennifer Aniston is pursued by lawman Gerard Butler, for this 13-page photo essay shot by Steven Klein.
W SHOP!
In its first-ever shopping issue, W fashion editors present a finely tuned shopping list, giving concrete answers about what to purchase for spring. In this issue every item is available for sale- including clothing and accessories- for the first time-in the major photo shoots by Steven Klein, Mario Sorrenti, and Inez van Lamsweerde and Vinoodh Matadin. Dresses, denim, lingerie, jewelry, makeup and more is all detailed for purchase on wmagazine.com.
CHEAT SHEET TO SPRING'S MUST-HAVES- page 86:
Discover W editor's ultimate favorites! 39 handpicked spring items from Tory Burch sandals to True Religion leggings. In this issue you can shop for a casual country weekend, a sparkling night out, and a warm weekend getaway.
SHOP GIRL- page 88:
W fashion writer Jessica Iredale spends a day shadowing veteran sales associates at Neiman Marcus in Dallas, where people take shopping personally and women know how to treat themselves right. In Stealth Splurgers (page 100) women embrace all manners of sneaky tricks to ensure their closets are stocked during the downturn. From spreading their purchases across multiple credit cards to stashing cash to blow on one spectacular item.
APP TIME- page 84:
Apple has yet to give fashion its own App category despite the growing number of brands embracing them. W's Sarah Taylor explores the growing popularity of mobile commerce among design houses like Chanel, Gucci, Diane von Furstenberg and Tommy Hilfiger.
Please credit the April issue of W for the above. For additional information or to schedule an interview with a W editor, please contact Elissa Lumley at 212-286-2225, elissa_lumley@condenast.com or Caitlyn Carpanzano at 212-286-2885, caitlyn_carpanzano@condenast.com. Thank you.