Architect Christian Wassman Designed a One-of-a-Kind Tree House
To design his first house, architect Christian Wassmann followed the sun.
---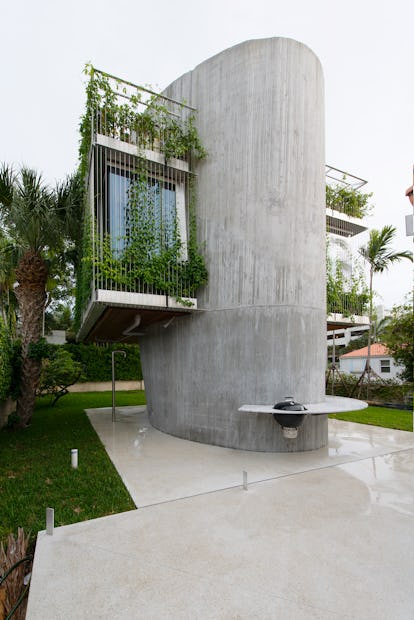 Photographer: Lukas Wassmann
It's a given that architects work in three dimensions. Christian Wassmann, however, prefers to think—and work—in five. "The first three dimensions of architecture are, of course, the X, Y, and Z axes of space," he says. "The fourth is time. The fifth is the hardest to describe, but it is also the easiest to enjoy, because it is the ephemeral element of architecture. It is a certain energy that only architecture can produce."
While this may sound overly esoteric, Wassmann's recently completed Sun Path House brings it all brilliantly to light. Tucked away in a residential section of Miami Beach, the raw-concrete pavilion was commissioned by the New York restaurateur Frank Prisinzano as an addition to a fairly generic 1930s Spanish-style bungalow. The three-story structure is anchored by a spiraling core wall, which was cast in place and around which the cantilevered second floor seems to float, as if by magic. "It's not just a random, elegant shape," Wassmann is quick to point out regarding the wall's delicate curvature. "It was the scientific start to the project, because it is an exact diagram of the longest day of the year in Miami."
Wassmann, who arrived in the States from his native Switzerland in 2000, is unique among the latest crop of New York–based architects in how he combines a Swiss sense of rigor and precision with an Oscar Niemeyer–esque appreciation for curves, and a keen interest in the cosmic. The 41-year-old father of two worked with the artist Robert Wilson and the architect Steven Holl before setting off on his own, in 2005, and counts the time he spent in South America (where he worked as "a cowboy and a mechanic") and a visit to India's 18th-century sundial Samrat Yantra, in Jaipur, among his formative architectural experiences.
The original brief from Prisinzano was to build "a tree house" that would enable him to enjoy the lush vegetation of the surrounding garden. Wassmann chose to push the limits of the local height restrictions, leaving the rest of the property (including the ground floor dining area and the rooftop sun deck) open to the elements—an anomaly in a city where homeowners tend to build out to the property line in order to maximize their climate–controlled environment. Further emphasizing the tree house effect, jungly vines have been trained along cables to cover the glass facades, creating stunning plays of light and shadow throughout the rooms. Overall, the 1,620-square-foot structure feels like a well-thought-out, self-sufficient organism—or, as Wassmann likes to describe it, "a temple that worships the sun."
Despite his interest in the mystical, Wassmann is probably more hands-on than many of his peers, thanks in part to a four-year draftsman apprenticeship in his high school years, in Zurich, in which he also learned carpentry, masonry, and even welding. Such skills came in handy during the construction of the Sun Path House, for which Wassmann custom-designed built-in furniture, lamps, and even door handles. "I enjoy when things are meant to stay," Wassmann says with a proud grin. "I want this house to stand for 300 years."
Watch W's most popular videos here:
Photos: Architect Christian Wassman Designed a One-of-a-Kind Tree House
Christian Wassmann's Sun Path House, in Miami Beach.

Photographer: Lukas Wassmann
Wassmann, in Miami this year.

Photographer: Lukas Wassmann
Photographer: Lukas Wassmann
The outdoor dining area with Wassmann's colored dodecahedron chandelier.

Photographer: Lukas Wassmann
Another view of the house, with the original Spanish bungalow just behind it.

Photographer: Lukas Wassmann