A Look Back at Aretha Franklin's Crucial Support of the Civil Rights Movement
How the Queen of Soul's vocals became the soundtrack to the civil rights movement in the late 1960s.
---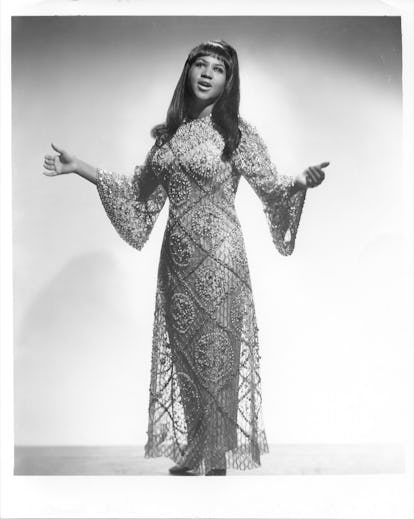 Michael Ochs Archives
Aretha Franklin, who died on Thursday morning at the age of 76, had an illustrious music career over six decades. In that time, she was heralded as a feminist icon for belting the empowering lyrics of "Respect," her signature anthem released in 1967, and her history as one of the soulful backbones of the civil rights movement should not be forgotten.
While her golden pipes and proficiency with the piano may have been passed down from her mother, Franklin's activist roots came from her father, Reverend C.L. Franklin, an organizer and close friend of Martin Luther King Jr. His 1963 Detroit Walk to Freedom predated King's March on Washington by two months, and "set the stage" for America's then-largest civil rights demonstration, as well as King's "I Have A Dream" speech, according to an interview Franklin gave to USA Today in 2013. Her family's ties to the movement were born from her father's friendships with the decade's prominent activists, such as King, Mahalia Jackson, and Harry Belafonte, at a time of political unrest for the nation due to the raging Vietnam War and escalating racial tensions, especially in Franklin's hometown of Detroit.
Franklin's "Respect" was a cover of Otis Redding's pleading rendition, which was released two years prior, but it flipped the message of the original into one of empowerment for women and a demand to be treated with dignity, leading the song to be adopted by the feminist and civil rights movements for what would be decades to come. By the end of the millennium, Franklin wrote an autobiography chronicling her life-spanning career. In Aretha From These Roots, she explained the power she felt her rendition of "Respect" had given to all people. "It [reflected] the need of a nation, the need of the average man and woman in the street, the businessman, the mother, the fireman, the teacher—everyone wanted respect," she wrote. "It was also one of the battle cries of the civil rights movement. The song took on monumental significance."
Franklin was present at King's funeral in 1968, where she sang "Take My Hand, Precious Lord," as well as that year's Democratic National Convention, where she belted the national anthem. By 1970, Franklin had already established herself as a feminist icon and was commercially successful with "Respect," "(You Make Me Feel Like a) Natural Woman," and "Think," and her relationship to the civil rights movement intensified. When Angela Davis was placed on the FBI's Most Wanted list, and arrested and jailed for kidnapping and murder (Davis was later acquitted of the wrongful charges), Franklin reportedly offered to pay the activist's bail "whether it's $100,000 or $250,000," according to reports in a December 1970 issue of Jet magazine.
Franklin would put her money where her mouth was and support organizers financially where she could. The singer felt that she had earned her money and status thanks to fans and family in her own community who bought her records and shot her to superstardom, so she figured she was obliged to give back, according to her interview with Jet. "I'm going to stick to my beliefs," Franklin told the magazine. "Angela Davis must go free. Black people must be free…Jail is hell to be in. I'm going to set her free if there is any justice in our courts, not because I believe in communism but because she's a Black woman and she wants freedom for Black people. I have the money; I got it from Black people—they've made me financially able to have it—and I want to use it in ways that will help our people."
R.I.P. Aretha Franklin, Who Had Style to Match Her Soul
The singer posed for a portrait in a classic '60s formfitting cream pencil dress that featured a side knee-high split. He look was completed with a pair of matching cream mary jane pumps.

Michael Ochs Archives
The soul singer looked divine as she donned an embellished bell-sleeve caftan as she posed for a portrait.

Michael Ochs Archives
American soul singer Aretha Franklin stands backstage wearing a gold-embroidered gown and holding a Grammy Award, circa 1970.

Photo by Getty Images.
Never afraid to show off her voluptuous curves, Franklin was front and center at her concert in 1972, dressed in a navy blue and gold dress that accentuated her bust with a low neckline and her legs with a thigh-high split.

Photo by Getty Images.
Aretha Franklin performing a song on a 1975 Bob Hope television special.

Photo by Getty Images.
At the 10th Annual Music Awards in 1983, the singer shows off her award and curvy figure as she poses in a strapless sequined gown on the red carpet.

Photo by Getty Images.
Aretha Franklin, in powder blue, in a concert circa 1985.

Photo by Getty Images.
Franklin performing at the Chicago Theater.

Photo by Getty Images.
Franklin, in 1990, in a regal gown by the late designer Arnold Scaasi, looking every inch the Queen of Soul.

Photo by Getty Images.
Franklin wore this leopard-and-zebra print jacket, matching cuff, and cream minidress to the Arista Records Pre-Grammy Party. She accessorized her look with gorgeous gold chandelier earrings.

Photo by Getty Images.
Franklin sings "Some Day We'll All Be Free"at the inauguration for President Bill Clinton in January 1993, on the steps of Lincoln Memorial.

Photo by Getty Images.
The Queen of Soul arrived to the 39th Annual Grammy Awards looking radiant and glamorous in a cream dress and matching fur coat.

Photo by Getty Images.
Franklin performed at Radio City Music Hall for a VH1 special in a fuchsia and black patterned gown paired with a satin fuchsia and black shawl and black strappy sandals.

Photo by Getty Images.
Franklin stole the show with her performance, and hat, at the inauguration of President Barack Obama in 2009.

Photo by Getty Images.
Franklin stunned in a off-the-shoulder black satin gown during her performance at the Candie's Foundation 2011 event. She kept her accessories classic: a pearl necklace and earrings.

Photo by Getty Images.
The legendary songstress looked angelic in a white one-shoulder gown for her performance during Surprise Oprah! A Farewell Spectacular.

Photo by Getty Images.
Franklin looked radiant and effortlessly chic in a shimmering soft gold caftan while attending the 102nd White House Correspondents' Association Dinner.

Photo by Getty Images.
Franklin performing during the 2017 Tribeca Film Festival opening gala premiere of Clive Davis: The Soundtrack of our Lives, at Radio City Music Hall on April 19, 2017, in New York. Photo courtesy of Getty Images.

Taylor Hill
Franklin's public endorsement of Davis was certainly not the only example of the artist financially supporting the civil rights movement. The day before Franklin died, Reverend Jesse Jackson revealed in an interview with the Detroit Free Press that, "When Dr. King was alive, several times she helped us make payroll," before launching into an anecdote about the several times she helped fund the movement. "On one occasion, we took an 11-city tour with her as Aretha Franklin and Harry Belafonte…and they put gas in the vans. She did 11 concerts for free and hosted us at her home and did a fundraiser for my campaign. Aretha has always been a very socially conscious artist, an inspiration, not just an entertainer…She has shared her points of view from the stage for challenged people, to register to vote, to stand up for decency," Jackson said.
From offering to post Davis's bail in 1970 to touring with King and his supporters, and eventually performing at Barack Obama's presidential inauguration in 2009, Franklin's vocals were a resonant soundtrack to the cultural and political forces behind the civil rights movements of the 1960s and the Black Power movement of the 1970s, and later underscored both Black Lives Matter and #MeToo. She continued to blaze trails as the first R&B singer that the Fillmore West in San Francisco had ever billed as a headliner, as the first woman inducted into the Rock & Roll Hall of Fame, in 1987, and as the estimated best-selling musical artist of all time, earning her the much-deserved moniker the Queen of Soul.
Related: Celebrities React to News of Aretha Franklin's Death