Aretha Franklin Airs Her Feuds in Public Via Fax, As All Stars Should
Aretha Franklin isn't one for stringing out her "bad blood" via tweets and music videos. She prefers to do it over fax machine.
---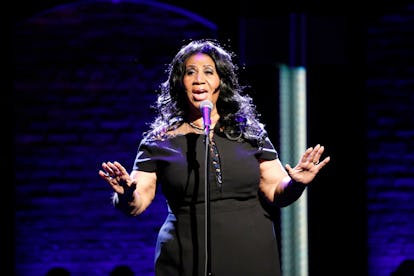 NBC
These days, a simple hit of the "unfollow" button on Instagram or the "like" button of a shady tweet can cause rumors of a pop star feud, whether it really exists or not. Aretha Franklin, for one, has no time for that digital, amateur diva nonsense. No, ma'am. Aretha Franklin is going to take full ownership of any supposed feuds in public, and she doesn't even need a WiFi connection to do it. She will just straight up fax the media if need be.
The queen of soul (and queen of shade) did just that this week when she blasted out a highly detailed letter via fax machine to several media outlets, including the Associated Press, to clarify rumors about a years-old feud with Dione Warwick.
Franklin's clarification: Yes, the feud very much exists.
Indeed, Franklin claims Warwick "blatantly lied on me . . . fully well knowing what she was doing." There is bad blood between the woman with the most entries on the Billboard 100 of all time, Franklin, and with the woman with the second most female solo entries on the chart of all time, Warwick, and Franklin calls it downright libelous.
The cause of the feud dates back to the 2012 funeral of Whitney Houston, which Franklin did not attend. Warwick, Houston's cousin, specifically pointed out Franklin's absence during a speech at the gathering.
"Ree's not here, but she is here," Warwick said, referring to Franklin by a nickname. "She loves Whitney as if she were born to her. She is her godmother."
Franklin says she was not able to make it because he had swollen feet, but did perform at Radio City Music Hall that night. She claims that she was contractually obligated to do so. She also took issue with Warwick describing her as Franklin's godmother, which she is not.
Photos: A Lesson in Throwing Shade from Prince, Mariah Carey and Aretha Franklin
Franklin decided to address the five-year-old perceived diss because she ran into Warwick over the weekend at the Tribeca Film Festival premiere of record label honcho Clive Davis's biographical documentary, and Warwick attempted to greet her and hug her like there was no drama between the two.
Franklin also called up the AP to make sure they received the fax, and commented further.
"She said, 'Give me a hug.' I said, 'Oh hell no. You couldn't be serious,'" she said, adding "We've never been friends and I don't think that Dionne has ever liked me."
This might seem ridiculous to some, but is it actually any more ridiculous than making a big budget music video complete with several a-list celebrity cameos for a song supposedly about a rivalry with another female singer? Franklin clearly chooses less showy and more economical ways to air her "Bad Blood."
She is not one to string drama thirsty fans along with slight hints of digital shade, or vague comments in the press. Franklin will air her drama in the media and the court of public opinion.
When reached by the AP, representatives for Warwick said she "will not dignify a response to the statement made by Aretha Franklin."
No word on whether or not Ryan Murphy has begun casting for Feud season 4.
See What's Trending in W Video:
R.I.P. Aretha Franklin, Who Had Style to Match Her Soul
The singer posed for a portrait in a classic '60s formfitting cream pencil dress that featured a side knee-high split. He look was completed with a pair of matching cream mary jane pumps.

Michael Ochs Archives
The soul singer looked divine as she donned an embellished bell-sleeve caftan as she posed for a portrait.

Michael Ochs Archives
American soul singer Aretha Franklin stands backstage wearing a gold-embroidered gown and holding a Grammy Award, circa 1970.

Photo by Getty Images.
Never afraid to show off her voluptuous curves, Franklin was front and center at her concert in 1972, dressed in a navy blue and gold dress that accentuated her bust with a low neckline and her legs with a thigh-high split.

Photo by Getty Images.
Aretha Franklin performing a song on a 1975 Bob Hope television special.

Photo by Getty Images.
At the 10th Annual Music Awards in 1983, the singer shows off her award and curvy figure as she poses in a strapless sequined gown on the red carpet.

Photo by Getty Images.
Aretha Franklin, in powder blue, in a concert circa 1985.

Photo by Getty Images.
Franklin performing at the Chicago Theater.

Photo by Getty Images.
Franklin, in 1990, in a regal gown by the late designer Arnold Scaasi, looking every inch the Queen of Soul.

Photo by Getty Images.
Franklin wore this leopard-and-zebra print jacket, matching cuff, and cream minidress to the Arista Records Pre-Grammy Party. She accessorized her look with gorgeous gold chandelier earrings.

Photo by Getty Images.
Franklin sings "Some Day We'll All Be Free"at the inauguration for President Bill Clinton in January 1993, on the steps of Lincoln Memorial.

Photo by Getty Images.
The Queen of Soul arrived to the 39th Annual Grammy Awards looking radiant and glamorous in a cream dress and matching fur coat.

Photo by Getty Images.
Franklin performed at Radio City Music Hall for a VH1 special in a fuchsia and black patterned gown paired with a satin fuchsia and black shawl and black strappy sandals.

Photo by Getty Images.
Franklin stole the show with her performance, and hat, at the inauguration of President Barack Obama in 2009.

Photo by Getty Images.
Franklin stunned in a off-the-shoulder black satin gown during her performance at the Candie's Foundation 2011 event. She kept her accessories classic: a pearl necklace and earrings.

Photo by Getty Images.
The legendary songstress looked angelic in a white one-shoulder gown for her performance during Surprise Oprah! A Farewell Spectacular.

Photo by Getty Images.
Franklin looked radiant and effortlessly chic in a shimmering soft gold caftan while attending the 102nd White House Correspondents' Association Dinner.

Photo by Getty Images.
Franklin performing during the 2017 Tribeca Film Festival opening gala premiere of Clive Davis: The Soundtrack of our Lives, at Radio City Music Hall on April 19, 2017, in New York. Photo courtesy of Getty Images.

Taylor Hill