Thanks to a Bad Haircut, Model Ari Westphal Is Having the Best Fashion Week Ever
"I was cutting my own hair and I cut too much off!"
---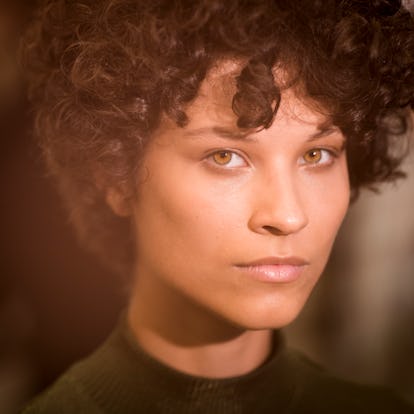 Courtesy of Tom Ford Beauty.
Every fashion week, one model stands out for an amazing haircut. Last season, it was Katie Moore and her kiddie-banged fiery bob. Just before fashion week, legendary hairstylist Guido Palau had given her the life-changing cut. "When they told me their vision for my hair I was so terrified for about 5 minutes," she told W after walking at Alexander Wang.
This season, the model is Ari Westphal. Her look, however, is not the result of an intervention by an iconic hair guru but rather the result of an unfortunate DIY experiment.
"It was an accident," the Brazilian model, who has appeared in a Chloe ad campaign, laughed backstage at Tom Ford's Fall 2016 show. "I was cutting my own hair and I cut too much off. I didn't know what to do! I cried for a week!"
After her detrimental error, Westphal went to her agent and had a professional hairstylist deal with the damage. The result: a pile of natural curls. It's short on the sides, and longer on top.
Now, the model has grown to love her low-maintenance style. She favors products from Kerastase and Olivine, is strictly wash and wear, and trims are monthly. (Backstage at Tom Ford, hairstylist Sam McKnight offered an impromptu clean up, which was happily accepted.)
Thanks to the new look, photographs of Westphal have flooded the internet and helped the rising star earn somewhat of a cult following. Not that it has gone to her head. When asked what other shows she'll be walking, she shrugs with a smile. "I don't know yet. I start today with Tom Ford."
Watch W's most popular videos here: