Ariana Grande and Justin Bieber's "Stuck With U" Video Is Full of Celebrity Romance Updates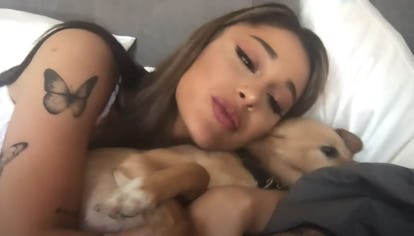 Celebrities may not get the publicity platform of a red carpet back anytime soon, but apparently a Justin Bieber and Ariana Grande music video will do.
The pop powerhouses teamed up for the lockdown romance track "Stuck With U" to benefit the First Responders Children's Foundation. Of course, to produce a music video, they had to rely on webcams and iPhone footage—but to spice things up, not only did they call in families of front line essential workers, they recruited some fellow celebrities as well.
It also served as something of an unintentional celebrity romance rumor update.
For example, news that Demi Lovato was dating former soap opera hunk Max Ehrich broke in the first few days of lockdown, and it's not exactly been a secret. Still, the couple decided to make their most public appearance yet by kissing in the clip.
Gwyneth Paltrow and her husband Brad Falchuk have been up front about some of the relationship struggles lockdown has brought on, but don't worry guys, they're spotted slow dancing to the ballad as well.
Chance the Rapper remains the ultimate wife guy by appearing with his wife Kirsten Corley. For anyone wondering, Frankie Grande is apparently still very happy with boyfriend Hale Leon. In non-romantic news, the sisters Jenner, Kendall and Kylie, have also been reunited (both in designer casual, of course).
Of course, the biggest reveal belongs to Grande herself. News recently broke that the singer had begun quietly dating a real estate broker (you can take the girl out of South Florida…) sometime earlier this year, but it wasn't until the very end of the video that she seemingly confirms she's in quarantine with Dalton Gomez.
Watch the full video bellow: