Ariana Grande's Pearl Engagement Ring Is Both a Trend and Deeply Personal
Michelle Williams and Emma Stone both have pearl engagement rings, but not quite like Grande's.
---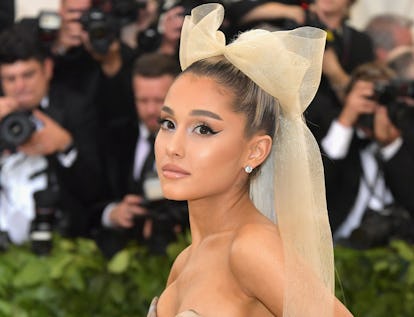 Neilson Barnard
Ariana Grande didn't necessarily say the words "I'm engaged to Dalton Gomez" over the weekend, but an Instagram slideshow of the singer with her real estate agent beau and a massive, head-turning diamond and pearl ring left little question. Should there be any doubt, Ariana's mother Joan Grande excitedly tweeted, welcoming Gomez to the family. Even though, by this point, hardcore Grande fans are pretty familiar with who Gomez is (the pair started casually dating a few months before lockdown in March, and got serious shortly thereafter), many had questions about Grande's very particular ring.
The ring features a rather large oval-cut diamond set askew next to a pearl. According to Page Six, the diamond is believed to be around 5 to 6 carats, and is worth somewhere in the $200,000 to $300,00 range. Those diamond specs are all pretty standard for a celebrity engagement ring—but what deviates from the norm is that pearl.
Still, it appears Grande is contributing to something of an emerging celebrity engagement ring trend with the pick. The engagement ring Emma Stone received from now-husband Dave McCary featured a large pearl offset by smaller surrounding diamonds. Though she didn't officially comment on it, Michelle Williams also quietly debuted what's believed to be her pearl engagement ring from fiancé Thomas Kail at the Golden Globes back in January.
The trend has picked up beyond Hollywood as well (popular food writer Alicia Kennedy also debuted a pearl engagement ring this weekend), and earlier this year, The New York Times noted that the sudden popularity of pearl engagement rings could be both part of a larger move against tired traditions surrounding marriage and a nod toward sustainability.
In Grande's case, the particular pearl may have deeper meaning. Her eagle-eyed fans remembered that all the way back in 2014, Grande showed off a pearl ring gifted to her by her grandmother Marjorie on Twitter. "[N]onna had a ring made for me w/ the pearl from grandpa's tie pin," she wrote. "she says he told her in a dream it could protect me."
Grande has a close relationship with her 95-year-old grandmother, and even once borrowed some of her jewelry to wear to perform at the Grammys. Grande has also held up her grandparents' marriage as, well, "#romancegoals." A small audio clip of her grandparents talking about how they fell in love can be heard toward the end of the 2013 song, "Daydreamin'," a track in which Ariana imagines meeting the perfect man.
There's no confirmation that the pearls are indeed one and the same, but the sizes seem to match and the backstory would certainly make sense.