Ariana Grande's "Positions" Video Imagines the Election Results We Deserve
Ariana Grande plays a chic Commander-in-Chief in the music video for "Positions," which she released right after the final presidential debate.
---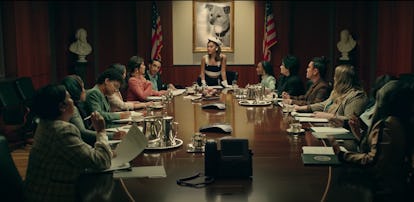 Ariana Grande in "Positions."
After revealing that she will release her sixth studio album before the end of the month and announcing that she will join the cast of Jennifer Lawrence's next film (along with just about every other A-list celebrity on the planet, from Timothée Chalamet to Leonardo DiCaprio to Cate Blanchett), Ariana Grande has dropped the single and accompanying music video for "Positions."
A few days before the single dropped, Grande teased the title of the upcoming single and video, which premiered just hours after the final presidential debate between Donald Trump and Joe Biden. Many guessed that the song's title was in reference to political positions, while others thought the song was referencing something a little more sensual. Well, now that the song and video are both out, it could be said that both camps were correct in their predictions.
"Positions" takes place at the White House during a future when Grande—clad similarly to Jackie Kennedy in pearls and a chapeau—is president and her cabinet is a group of mostly women (including her mom, Joan Grande). The song's lyrics—"Cause I'll be/Switchin' the positions for you/Cookin' in the kitchen and I'm in the bedroom"—also mention "switching positions," which is obviously intended to be a double entendre, but also something that is in reference to making a relationship work while also working on her career.
Of course, debuting the video after the presidential debate wasn't the only political message sent by the video. Grande—who has been quite vocal on social media about politics, and even kicked off her world tour in 2019 by having voter registration kiosks available at her concerts—can be seen in the video doling out awards to postal workers, an obvious jab at Trump's anti-USPS sentiments, and working in the Oval Office with a diverse crew of women (and a portrait of her dog, Toulouse) is something that certainly has not come to pass during this current administration's presence in the White House.
Related: Ariana Grande Sent Food to Kentucky Voters Waiting in Line for Hours