Family Tradition
Ariana Rockefeller's new fashion line takes artistic inspiration from her DNA.
---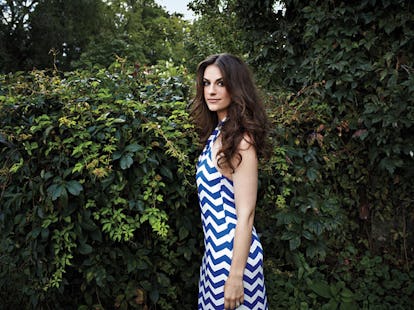 When you're the great-granddaughter of Abby Aldrich ­Rockefeller—the socialite who helped establish New York's Museum of Modern Art in her nine-story midtown mansion—being surrounded by artistic masterpieces is a birthright. "I always associate the Picasso with my parents' dinner parties," says Ariana Rockefeller, of Femme et Chien Sous un Arbre (1961–62), the painting that hung in the white loftlike living room of her family's home in Cambridge, Massachusetts. Along with other Rockefeller-owned works, the piece (above right) has now become inspiration for the 29-year-old scion's first fashion collection, with the cobalt blue chevron print of the subject's housedress forming the basis for a silk georgette halter gown, caftan, and collared silk blouse.
Picasso's Femme et Chien Sous un Arbre
"A love for beautiful things runs in my family," says Rockefeller, who studied visual arts and political science at Columbia University before joining the pantheon of socially prominent women (Gloria Vanderbilt, Lilly Pulitzer, Carolina Herrera) who have launched fashion labels. Much like those predecessors, Rockefeller, who spent most of her wedding in Maine last year running around barefoot, sees her eponymous line as a reflection of her low-key lifestyle. As such, she's infused the spring ­collection—which also includes linen palazzo pants and dresses meant to be worn from day into night—with a good dose of ease. "The line honors my family's refined sensibilities," she says, "but also breaks free a bit. That's basically been the theme of my life" (arianarockefeller.com).
Photograph by Jason Frank Rothenberg; Hair by Kozmo for Phyto Hair Care at Bryan Bantry; Makeup by Elizabeth Keiser for Bobbi Brown; special thanks to Blue Hill at Stone Barns; Femme Et Chien Sous Un Arbre: Estate of Pablo Picasso/Artists Rights Society, New York.