Ariel Levy's The Rules Do Not Apply is This Year's Must-Read Memoir
The journalist Ariel Levy has spent her career investigating gender, sexuality, and what it means to be a woman. In her first memoir, she turns this inquiry on herself.
Photographs by Barrett Sweger
---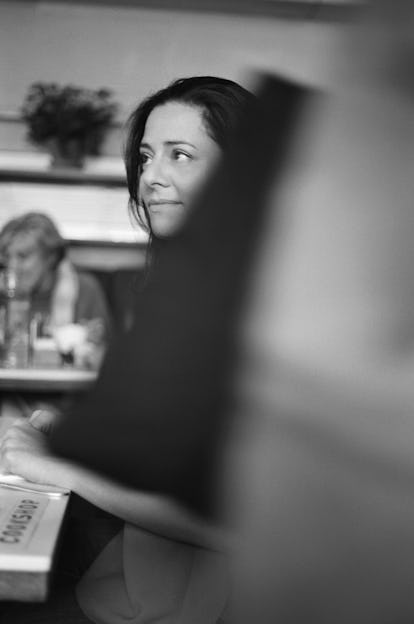 Ariel Levy has kept a journal since the third grade. "I named it and personified it and made it my confidante," she writes in The Rules Do Not Apply, her first memoir, out this week. "My lined notebooks were the only place I could say as much as I wanted, whenever I wanted." For nearly as long as she can remember, Levy wanted to be a writer; as a child, she thought herself a novelist, but she came to realize, as she explained on a recent afternoon in New York, "I don't have much of an imagination."
Instead, over the course of two decades as a journalist—first for New York magazine and then as a staff writer for the New Yorker—she's made a career of flinging herself into foreign scenarios and reporting the stories that emerge. Her beat tends to circle around the biological and cultural nature of femininity and what it means to be a woman. Her first reported feature at New York studied a nightclub in Queens that catered to plus-sized women "whose very bodies were unmistakable monuments of resistance." At the New Yorker, one of her best-known pieces remains a profile of the South African middle-distance runner Caster Semenya, who was subjected to intrusive gender testing and media attention at the 2009 World Championships in Berlin. (Levy's experiences with both stories feature prominently in The Rules Do Not Apply.) She's profiled the swimmer Diana Nyad, the comedian Ali Wong, and Edith Windsor, the plaintiff in the legal case that resulted in the Supreme Court striking down the Defense of Marriage Act. Just last week, Levy, now 42, published a story on the photographer Catherine Opie, who, through her subversive self-portraits and images of everything from the sadomasochism community in Los Angeles to Elizabeth Taylor's effects, explores bodies and sexuality and what constitutes community.
In The Rules Do Not Apply, Levy describes her beat as "stories about women who are too much." This echoes a description of herself in the preface: "People have been telling me since I was a little girl that I was too fervent, too forceful, too much." She wrote that preface on the suggestion of her editor, who told her it might be wise to give readers "a flash of the shit show that's coming," Levy explained recently when we met for lunch in Chelsea, where she lives in a brownstone with her two cats, Bruno and Charlie. (She splits her time between New York and South Africa with her fiancé, who works in Cape Town.)
Nearly five years ago, just before Thanksgiving, an assignment took Levy to Ulaanbaatar, the capital of Mongolia, to report on how its blossoming economy would affect gender equality; an underdeveloped nation, Mongolia had nonetheless edged out Australia in the 2012 Gender Equity Index. On her second night in Ulaanbaatar, 38 years old and five months pregnant, Levy went into premature labor. She gave birth to her son on the bathroom floor of her hotel. He survived just 10 minutes, and Levy was rushed to a local hospital. That's where she met John Gasson, then the doctor on call, now her fiancé.
A year later, that experience became "Thanksgiving in Mongolia," Levy's 2013 New Yorker essay that is probably one of the most devastating pieces of memoir you will ever read. The story elicited an enormous response from its readers, chief among them women who had survived similar experiences, and won Levy a National Magazine Award.
"The experience felt really pure, and I was like, If this is what it feels like, then I'll do it," Levy said of the essay. With "Thanksgiving in Mongolia" as its backbone, she started writing The Rules Do Not Apply in April 2014. It took two years. During the first, she reported just one additional story, about a Long Island native named John Restivo who spent 17 years on death row wrongfully convicted of rape and murder. The rest of the year was focused on the book.
In many ways, the memoir is a continuation of those same issues that have concerned her throughout her career: the tension between her domestic impulses and restlessness, gender roles, monogamy, and "stories about the kind of experience of being a human female animal—the blood-and-guts stories of what it means," she explained. "Why is this an obvious thing I would write if it was anyone else's story, but not mine? I know more about me than anything."
Yet the act of memoir presents a daunting challenge. "You know how you don't ever know if anything's good?" Levy asked me. "It's a little bit extra hard to know if it's bad or good if it's about yourself."
The Rules Do Not Apply is Levy's second book. In 2005, she published Female Chauvinist Pigs, which emerged from an essay she wrote for New York about the hyper-sexualization of women in the name of empowerment. This first book gets only a glancing mention in The Rules Do Not Apply. "It was un-fun," Levy told me. "I learned doing it that I don't want to write polemics. … I don't want to argue. I want to insinuate." Still, she didn't conceive of herself as a memoirist, though she had written first-person essays; she maintained that she's "not leaving the mortal coil" without also writing a biography.
The scope of The Rules Do Not Apply roughly mirrors "Thanksgiving in Mongolia"—they even share first and last lines—but the memoir goes deeper, mining Levy's childhood in Larchmont, New York; her affair, in her late twenties, with the woman she would go on to marry; another affair that nearly shattered that marriage; and her spouse's struggle with alcohol. It's not quite linear, frequently digressing into a story Levy wrote or a bit of family lore, and it's filled with Ariel-the-writer's meta-commentary, re-evaluating some events and endowing others with added meaning. The death of her cat, Paolo, seems to portend the cascade of tragedies to follow. "That's what I do," she writes of her need to put lives—her own and others'—into narrative. "That's what I'm doing now."
The book climaxes with that night in the Blue Sky Hotel in Ulaanbaatar and her return home to the United States, where she confronts her spouse Lucy's alcoholism head-on. It closes with a kind of poetic surrender. "We're not in control. Nature's in control," she told me. "Nobody gets out alive."
Acceptance helped push her through the grief, but there are days when it surfaces again. Thanksgiving, the anniversary of her son's death and the day she met Gasson, is "a weird time of year," she said.
"With any loss, with any grief, it's never like, 'Oh, that's fine.' It's not fine," Levy said. "When you're grieving actively, you live inside a tunnel of grief. And then, when you get through it, it lives inside you."
The Rules Do Not Apply alludes to her romance with Gasson without quite saying it outright—even if what comes next is "fairly juicy, from a narrative perspective," Levy said. She divorced her spouse, Lucy, and entered into a new relationship with Gasson, a man 17 years her senior who had just seen his two children off to college. She poured time and money into fertilization treatments, only to find that she was not able to become pregnant again. If she had delved into those details, she said, "it would have sounded like he saved me—and he didn't. That has been its own exhausting mountain to climb."
For the most part, she and Gasson have summited it. They share a penchant for exploring, venturing across South Africa and Zimbabwe. Later this year, they will set out on a road trip across Namibia in a camping vehicle that Levy described as a "Barbie dream house on wheels."
And for all the darkness in her memoir, it's still buoyed by some measure of levity. Levy, self-described "silly goose," hasn't lost her sense of humor in the process. "I really like being alive," she said, acknowledging how cheesy that might sound. "I'm really in love, and that's fun."
"Women's Rights Are Human Rights": 62 Fashion Insiders Speak Out in a Powerful Video for International Women's Day: