Under Armor: Zoë Buckman's Lingerie Feminism
The artist reveals her latest works in L.A., at Papillon Gallery.
---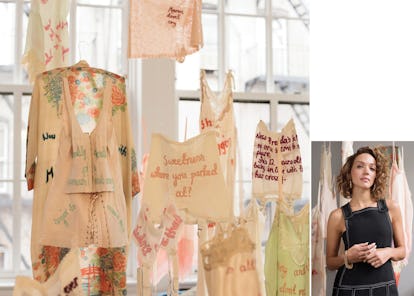 An elevator lined with gray velvet ferries visitors to the East Village studio of the artist Zoë Buckman, whose Bloomsbury–meets–Biggie Smalls aesthetic has a curiously enveloping allure. Here, in the fourth-floor aerie of the town house she shares with her husband, the actor David Schwimmer, Buckman, 30, unpacks her experiences for source material. Growing up in the East End of London in the 1990s, she listened nonstop to hip-hop, which is evident in her latest installation, comprised of vintage slips, cone bras, and other worn lingerie that she has hand-embroidered with rap lyrics from the Notorious B.I.G. and Tupac Shakur.
Every Curve, as it's called, explores the tension between the misogyny within rap and the positive, feminist messages she extracted from some of the music. She points to a nude bodysuit from the '50s stitched in red thread with the lyrics: since a man can't make one, he has no right to tell a woman when and where to create one. "Tupac was actually pro-choice, which is fantastic," Buckman says. "Of course, those moments in rap are few and far between." The work is currently part of her second major solo show, at the Papillion gallery, in Los Angeles, and includes her new sheet-metal chastity belt sculptures that weirdly call to mind Matisse cutouts.
Buckman comes from a line of stalwart women. She points to a lacy pink corset from the '20s that belonged to her paternal grandmother, an actress who performed with Charlie Chaplin. Her 103-year-old maternal grandmother, meanwhile, was one of the first female lawyers in London. Buckman's hippie mother, Jennie, was involved with the acting program at the Royal Academy of Dramatic Art and often took her daughter to work with her, so it's no surprise that Zoë ended up marrying an actor. (She met Schwim, as she calls him, while waitressing, in London; the two have a 4-year-old daughter, Cleo.)
Her latest preoccupation is boxing. She spends four days a week in the ring and is presently casting her mouth guard in metal and making a handblown glass boxing glove­—metaphors for the fight for women's rights. "It's great because you're using your brain the whole time," she says of her workout. "You can really do some damage."