Extra Credit
When private schools open their fundraising auctions to the public, who benefits?
---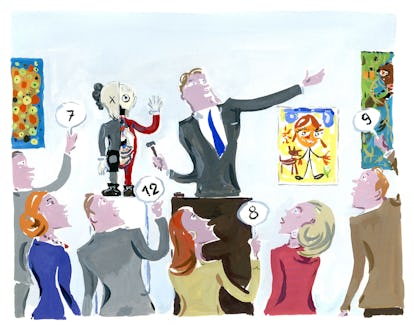 On a Thursday evening this past February in NewYork,David Zwirner gallery was packed with curious onlookers, which is nothing unusual for the popular Chelsea art enclave. Women in puffy black down coats and knee-high boots and men in navy blazers sipped bubbly while checking out offerings like a Chris Ofili watercolor (estimated value $15,000), an Oscar Murillo mixed-media work (estimated value $40,000), and a Carol Bove peacock feather-and-acrylic piece (estimated value $120,000). But this wasn't just another opening reception. It was a preview of the 66 lots for sale in an auction to benefit Friends Seminary, a private Quaker school in Gramercy Park. And the auction, which was co-chaired by Zwirner and fellow gallerist Anton Kern, both parents at the school, wasn't just for Friends' friends and family: Bidding was open to the public through Paddle8, which explained the presence of tablet-wielding representatives from the online auction house. "I'd get a drink," said one parent to another, eyeing the prices. "Because you'll need it."
Friends isn't the only institution selling contemporary art by in-demand artists on the open market in the name of fundraising. Earlier this year, Paddle8 helped the Lycée Français de New York set up an online auction with lots including a Harold Ancart oil stick–and–pencil drawing ($12,000) and a KAWS silk screen on paper ($1,000). And not long after the Friends sale, Grace Church school featured an Alex Prager C-print ($15,000) and a Cecily Brown work on paper ($20,000), among others. While tried-and-true prizes like trips to the Bahamas or the Hamptons and dinners at fancy restaurants are still the bread and butter of most school fundraisers, selling art to bidders outside the parent community may affect the way these institutions add to their bottom lines.
Annual spring benefits have long been mainstays of the private school world. As hard as it may be to fathom, those astronomical $40,000 tuition bills don't cover the full cost of educating a student. And, of course, not everyone can pay that bill, making scholarship funds a necessity. (Twenty-two percent of Friends students received financial aid for the 2014–2015 academic year.) Traditionally, however, auctions at such events have leaned heavily on experience-based items like internships, trips, and spa days.
When artworks were included, they were the sort produced in a classroom. Brooke Garber Neidich, the owner of Sidney Garber jewelry and a philanthropist on the board of the Whitney Museum of American Art, recalls that 20 years ago, when she headed up the live auction at the Brick Church preschool on the UpperEast Side, the things that sold the best were works made by the children. One year, a papier-mâché dinosaur induced such a bidding war that Neidich commissioned the class to make a second one for the parent who lost out—thereby doubling the school's take for that lot. In her first year of heading the auction, in the early 1980s, she raised $50,000.
The fact that nowadays a Raymond Pettibon painting with a market value of $40,000 can be auctioned alongside a set of napkins and place mats from Mrs. Crabapple's class speaks to how the art world has become increasingly influential in virtually every aspect of Manhattan's social scene. "Offering the artworks through Paddle8 raised some eyebrows," concedes Andrea Crane, a Friends parent, alumna, and former director at Gagosian. "But while it's wonderful to keep the sales in the parent community, the ultimate goal is to provide kids with as much as possible." Crane adds that auctioning art feels natural for a school that has a strong connection to that world. After all, it has long counted artists among its parents and graduates: Crane recalls having Milton Avery's grandson in her art class and Philip Glass's children as fellow students.
"When I was asked to co-chair, I wanted to put all my might toward it and not just go to the meetings," says Kern, who reached out to his stable of artists, including Jim Lambie, Ellen Berkenblit, and David Shrigley, for contributions. He estimates the auction raised more than a million dollars. "It was definitely more serious than in the past—and it made more money."
Anne-Gaëlle Van de Weghe, whose husband, Christophe, owns Van de Weghe Fine Art—a secondary-market gallery specializing in works by artists like Duane Hanson, René Magritte, and Andy Warhol—was a co-chair of the Lycée Français gala this year. She committed to raising $2 million, with help from her co-chairs, and she did—a record for the school. In addition to the silent and live auctions that took place during a splashy party at the Park Avenue Armory (the elusive French street artist JR was the honoree), she wanted to "put together something funky and different, so people would be excited about going to the gala," she says. With Paddle8, she organized a pre-party online auction, with works by KAWS, David Salle, and Enoc Perez, all of which she wangled through friends and favors. That auction, which served merely to whet the appetite of those attending the gala, raised $160,000.
Opening these sales to the public offers several advantages, according to Holly Greenfield, the head of the benefit auction department at Paddle8: It increases the reach of a school's co-chairs; it raises the school's profile; and it may even introduce some parents to the idea of collecting. Greenfield, who has been advising art colleges for a couple of years, says Manhattan private schools are a newer group. She steers the parent chairs toward artists who sell well on Paddle8—besides blue chip names like Cindy Sherman, Richard Serra, and Warhol, top billing goes to up-and-comers like Jonas Wood, Sam Falls, Petra Cortright, and Murillo—and helps set the reserve.
The results have been beneficial for all involved, with approximately 70 percent sell-through at the auctions for Friends, Lycée Français, and Grace Church. (That Bove from Friends went to a collector in Detroit, and a KAWS piece from Van de Weghe went to a bidder in Hong Kong.) Still, it remains to be seen whether other schools will follow suit—or whether they are even able to do so without high-profile gallerists in their parent body. "You kind of have to be in the art world to put this together," says Van de Weghe, who points out that, even for someone with her far-reaching connections, it's not likely to be an annual undertaking. "You ask all of your friends for favors, and then if you ask them again, they're going to be like, 'What the hell is this?'" she says. "It's a once-in-a-lifetime thing I did for my children's school."
Fortunately, even with major artists on the docket, kid-crafted work seems to have lost none of its appeal. At a recent Brick Church school benefit, Andrea Glimcher, who has worked at the Guggenheim Museum and Pace Gallery and recently started her own art advisory business, Hyphen, nabbed a woven wall piece from her son's class in a heated bidding war that ended at $12,000. "You can't put a price on these things," Glimcher says. "Every morning at drop-off, the other parents are like, 'You got the weaving!' Everyone wanted it. I'm going to have a big party in my apartment so all the teachers and parents can come, and we'll all look at the work of art."