At Art Basel Hong Kong, David Zwirner Buys the Drinks
Everything you missed at Art Basel Hong Kong, where collectors were slow to spend—except at Zwirner's booth, natch.
---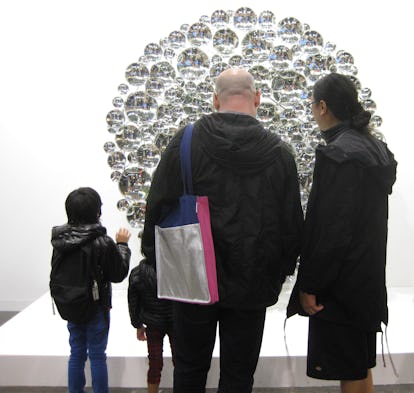 Over breakfast at the Four Seasons in central Hong Kong, I overheard the director of New York's Greene Naftali gallery, Vera Alemani, hard-selling a collector on a Paul Chan work from their Art Basel Hong Kong booth, a piece in which sneakers are connected to projectors. "The shoes," she said, handing him an iPad, "represent the body."
The collector shook his head. "I cannot show this in my house," he replied. "I have so much art, I can only show so much at a time. I want something for the wall."
The dealer nodded. "I see," Alemani said. "Something practical." She scrolled down to show him some wall works by Lutz Bacher.
This was hardly the only deal being closed on a drizzly Thursday at the Four Seasons. It's the morning after Art Basel Hong Kong opened to the public, and iPads are whizzing around tables, though viewing work as conceptually complex as Chan's on an iPad is about as useful as a cheese grater in the Hong Kong rain. "This one," I heard another dealer say conspiratorially, "LACMA just collected her, and MoMA. Everyone."
The collectors are nodding like bobbleheads, but it's been tough on the dealers here.
"Everyone I've talked to have said it's been slow," confirmed Mieke Marple, the co-founder of Night Gallery, in the Discoveries section of the fair. "Everyone except David Zwirner. Apparently, they brought in all their top barkers, and have sold everything. They're buying drinks tonight."
According to Art Basel's publicity department, Zwirner unloaded a Luc Tuymans for $1.6 million, five paintings by Michaël Borremans priced between $250,000 and $1.6 million, and works by younger market stars Oscar Murillo and Jordan Wolfson.
Outside of Zwirner's booth, it seemed that Asian collectors were slow to pull the trigger, perhaps hesitant to shell out while the Chinese economy is in shambles. China's struggle was on everyone's mind, it seemed. When the South China Morning Post asked Art Basel chief Marc Spiegler about it during a press conference, he fell back on the age-old adage that collectors should buy what they like.
And there was much to like at this fair. At Workplace Gallery's booth, the Los Angeles-based artist Joel Kyack showed three hysterical assemblage works he created from materials he sourced while setting up a studio in the Kowloon area during the two weeks leading up to the fair.
At Hong Kong's am space, there were stunning plastic plants by Chang Huei-Ming and intricate personal drawings by Frank Tang Kai-yu—a pair of Hong Kong artists playing around with the notion of man-made versus nature.
Over at the fair's Encounters section, there were strong works by Pae White, Nathalie Djurberg, and Zhang Ding, whose gold-colored mirrored cubes were made to be scratched with a piece of broken glass by fairgoers.
Much of the work at the fair was colorful and brash, and much of it dealt with urban life, as well as the struggle between the natural and artificial worlds. I counted about 10 fake trees or plants—including those by Chang Huei-Ming—planted across the fair.
As with any major fair, the satellite events blurred together like a waking dream: a party for VIPs at the Upper House, a series of dinners, a boozy night celebrating legendary L.A. artist Larry Bell, MCM's party for their collaboration with Tobias Rehberger (attended by Hailey Baldwin and a few Hiltons), and whispered sightings of Leonardo DiCaprio (do we call him Oscar winner Leo now?), who haunts the art world like a ghost.
There's a working theory that when the sales don't boom, the partying gets ratcheted up, as art dealers drown their sorrows in booze and drugs. Well, Art Basel Hong Kong was a blast, but not a boon.
Photos: At Art Basel Hong Kong, David Zwirner Buys the Drinks
The collective Tromarama's "Private Riots."
Hauser & Wirth's booth. Photo by Maxwell Williams.
Yet another plastic plant. Photo by Maxwell Williams.
One of the more colorful booths. Photo by Maxwell Williams.
A work by Kohei Nawa. Photo by Maxwell Williams.
A work by Rirkrit Tiravanija. Photo by Maxwell Williams.
Roslyn Oxley's booth. Photo by Maxwell Williams.