The Strangeness of Art Basel Hong Kong
A few WTF moments to ponder from the week the world's biggest art fair touched down in Hong Kong.
---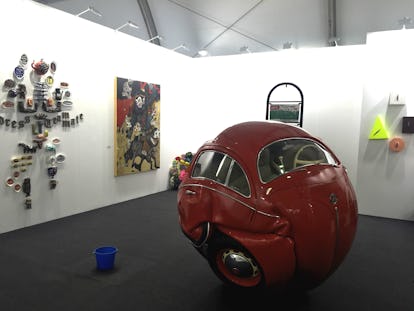 Despite the fact that one major art fair is not so different from the next on the international art world tour, they do things a little differently in Hong Kong. Here are a few moments that could only happen here.
Beware, the Artist is Present Tracey Emin, who opened her first ever Hong Kong solo exhibition at White Cube's outpost here, has never been one to mince words—just this week, she admitted to having married a rock. During a panel at the fair with the Hong Kong billionaire Sir David Tang—of the Shanghai Tang brand, a man whose plummy accent and ripe articulateness is straight out of Edward St. Aubyn—she also confessed to stalking her own booth. "I love art fairs like the one here in Hong Kong," she said. "Because I stand in front of my work and eavesdrop. And if I don't like what they're saying, I tell them, 'Actually, you're wrong.'"
Upstaged By an Updo At MCM's party for their new collaboration with the artist Tobias Rehberger, Hannah Bronfmon deejayed and Hailey Baldwin partied, but no one caused pandemonium quite like the Cantopop singer Sammi Cheng—or rather her her hair did, as she debuted a new look of tight spiral of curls.
Fair Weather If you've seen one Art Basel in Miami Beach or Switzerland, you've seen them all. But Art Central is the only real satellite fair in Hong Kong, and it's genuinely interesting—a bit woolier, and with more emphasis on Asian galleries. Highlights included the local Art Experience Gallery, who featured Hong Kong artist Na Wei's thickly applied oil paintings that resemble beautiful carpets; Indonesian artist Ichwan Noor's "Beetle Sphere," made from an actual Volkswagon Beetle bent into a ball by the artist at Jakarta's Redbase Art; a pair of Nam June Paik media works at Seoul's Galerie Bhak; and Sarah Amos's fragile print-based textiles at Cynthia Reeves. But the real drama came when the skies opened up over the tents during the press preview, and gallerists rushed to protect their art when the ceilings began to leak. As far as I know, nothing got damaged, but buckets quickly became the hottest booth accessory.
There's No Party Like a Harilela Party The Harilela family is legend in Hong Kong, and the Harilela Mansion in Kowloon Tong, a 40-bedroom palace that houses about 90 members of the family, is a landmark. The Institute of Contemporary Art (ICA) celebrated their 70th anniversary there, and it was nothing less than baroque. Guests swarmed around buffet tables filled with every kind of food imaginable (including a sweets table piled high with cupcakes, mini-donuts, and cakes); drank fruity cocktails from the five bars set up around the manse; and danced to house music in the ballroom. Lounging on an ornate couch, the L.A. artist Larry Bell regaled an audience with the tale of the time he met Georgia O'Keeffe—they didn't exactly get along—while artists Wu Tsang and Boychild got inked at the henna station and wrapped up at the turban giveaway. On the invite, guests were told to wear "jodhpur blue or pink."
Photos: The Strangeness of Art Basel Hong Kong
Tim Marlow, Tracey Emin, and Sir David Tang. Photo by Maxwell Williams.
The scene at MCM. Photo by Maxwell Williams.
Bucket collecting water at Redbase Art's booth at Art Central. Photo by Maxwell Williams.
The spread at the Harilela mansion. Photo by Maxwell Williams.
Lounging at Harilela. Photo by Maxwell Williams.
Larry Bell's "Pacific Place" at Pacific Place's mall and Upper House Hotel in Hong Kong. Photo courtesy of Swire Properties and UTA.