Watch Out Miami: Art Basel Hong Kong 2017 Is Growing Up Fast
In its fifth year, Art Basel Hong Kong 2017 is mixing more business and more pleasure than ever before. Here's a comprehensive round-up of everything you need to know from the fair.
---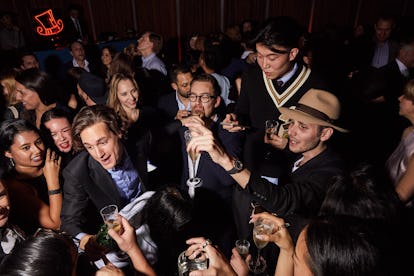 Five years in, Art Basel Hong Kong, the youngest fair under the Basel banner, has definitely grown up. Gone are the flimsy attempts at cash-only deals by mainland China collectors and sparsely attended parties that end around 2 a.m. Even the Monday night openings at the gallery-packed Pedder building (Gagosian, Lehmann Maupin, Pearl Lam, Simon Lee, the list goes on) had a line out the door by 7 p.m., and after-parties overcrowded regularly before midnight. By Friday morning, lines snaked out of the convention center, where the fair is held, as the buying and partying carried on ceaselessly. We've reached peak saturation point here. Read on for a roundup of the most gossiped-about happenings at Art Basel Hong Kong 2017.
Super Rich Kids
China's art world is increasingly in the hands of the young—like, very, very young. M. Woods impresario Michael Xufu Huang, all of 22, could be spotted roaming the aisles in a millennial pink flared pajama-style jumpsuit. On the opening day, he threw a bash at the pop-up Le Baron that was so packed Huang couldn't get back into his own party after stepping out. Linyao Kiki Liu, the art world doyenne (if a twenty-something could be called a doyenne), threw a Serious Adult Dance Party at the subterranean club Ping Pong with Klaus Biesenbach and K11 Foundation overflowing with gin-and-tonics. But the cramped bars of Hong Kong don't offer much in the way of dance-floor space and lines were insufferable even for VIPs. Next year people will have to get creative.
Serious Adults
The fair is a full five years old this year, no longer a baby. (Though Art HK, the previous iteration of this fair, is 10 years old, the Basel branding was only acquired in 2013.) At the first and second editions, one could spot collectors wielding large briefcases full of cash. "That sh-t is over, thank god," a Los Angeles-based dealer confided. "People have learned." Still, signs about not touching the art, a popular offense at a lot of Chinese museums, were prominent at booths and part of the official fair signage. By Thursday, there were regular announcements over the P.A. imploring visitors not to touch. But still, the fair has grown by leaps and bounds.
Splashy Extracurriculars
One sign that the fair is more Basel than ever? That, like Miami Beach, the hottest tickets in town had little to do with the fair itself. PMQ, Hong Kong's newish design hub in the trendy Sheung Wan neighborhood, threw a party for its latest exhibition, curated by Gucci's Alessandro Michele and featuring new work by Petra Collins. Culled from Michele's A Magazine project, the show catalogued jet-set signifiers of the moment in rooms bathed in millennial pink. Naked Polaroids of Chloë Sevigny? Check. Doodles on Chateau Marmont notepaper by Florence Welch? Yep. On Saturday, amFAR throws its third annual Hong Kong bash, another event lured in by the glitz of the fair. This one will be chaired by Charlize Theron. Meanwhile, Naomi Campbell has been making her way through the Basel dinners around town, too.
As For the Art…
Per usual, the work at ABHK tended toward large-scale, colorful works by east Asian artists. It seemed any booth with a Takashi Murakami brought interested buyers in: Blum & Poe, Emmanuel Perrotin, and Gagosian all manned busy stations on opening day, all with Murakamis. The blue-chip Japanese Pop artist seems to rule this fair; there was even a brunch earlier in the week to celebrate his new exhibition at the Garage Museum in Moscow. By now, returning dealers know the drill: bring the bright, expensive-looking, not-too-cerebral work. Complicated, small, conceptual pieces, most often brought by European galleries, don't crack this market. For reference: the Yuz Museum's Budi Tek scooped up some large, candy-colored Joshua Nathansons from L.A. gallery Various Small Fires.
Market Woes
Basel chief Marc Spiegler was tight-lipped about whether recent economic woes would impact the fair, but one didn't have to look far for the evidence. The new exhibition at China's hallmark contemporary art museum UCCA, "The New Normal," is even named after the term for China's new, not-as-mighty economy. Whereas 2016 brought in celebrities like Leonardo DiCaprio, this year, said one Shanghai dealer jokingly, "He knows to stay away." The official VIP roster was much heavier on art-world names. For the first time, Art Basel released an art-market report, compiled by Dr. Clare McAndrew, which claimed China represents 20 percent of the art market, just behind Britain and 10 times the might of Switzerland. Another finding, not very surprising: Art fairs take a huge share of sales. To follow, booths went up in price this year, according to multiple dealers—for good reason. Blue-chip galleries like David Zwirner and Hauser & Wirth reliably did seven-figure sales within hours of the fair.
Shanghai On Top
If there was ever any doubt, this year made it clear: Shanghai is China's most formidable art capital. While artists still flock to Beijing and prestigious galleries maintain berths there, big buyers with their own private museums in Shanghai, like Budi Tek and Qiao Zhibing, roamed the Basel aisles snatching up works, while the city's darling galleries like Antenna Space, first time exhibitor BANK, and Leo Xu Projects turned up with some of the strongest booths around. Leo Xu collaborated with L.A. powerhouse David Kordansky this year on a pre-Basel exhibition in Shanghai. "We see Leo like our counterpart here in a lot of ways," a director at Kordansky said. Collectors, curators, and international dealers quietly confided that they find the more cosmopolitan—and it must be said, less polluted—Shanghai more manageable than Beijing. And the museum scene, brash and new money as it may be, is more exciting. "It's a complete inversion," said Hans Ulrich Obrist, who first started going to China in the 1990's.
Next Gen of Chinese Artists
Young Chinese artists working primarily in and on the internet were all the rage at the fair. Even more notable, the work isn't just making the rounds through the circles of curators and institutions, but popping up on sponsored shortlists and pop-culture platforms. Lin Ke, the Beijing-based artist who records his activities via screengrabs and webcam, was shortlisted for the BMW Art Journey and featured at BANK's Discovery booth, as well as being featured in K11's .com/.cn and UCCA's group show; ditto for Miao Ying, whose APP-nosis series send-ups of tablet and app culture foiled stalwart Chinese publisher Modern Media's launch of a new global art-guide app at their booth. Another artist standout around the fair: Liu Shiyuan's instantly Instagram-able installations both at Leo Xu Projects and White Space Beijing.
Joint Birthday Party
It was an anniversary year at the fair, with a decade of art-fair mania under Hong Kong's belt. Hauser and Wirth also celebrated 25 years with a party in Hong Kong, as well as a pre-Basel affair in Shanghai where, one Chinese dealer told me, two-thousand-RMB bottles of wine were poured freely. The UCCA celebrates its 10-year anniversary; Pace announced the opening of another space in Hong Kong as well. For an industry that loves to congratulate longevity—and ruthlessly weeds out the weak—there were certainly a lot of birthdays. With one exception—besides Pace opening another Hong Kong space, there were no big launches. The wave of gallerists flooding in to capitalize on Hong Kong's proximity to China seems to have slowed down; these days, a gallery in Hong Kong only really gets one closer to Hong Kong collectors. Though the city is undoubtely catching up to the Basel crowds: the entire harbor by the fair is one big construction site, while the West Kowloon Cultural District—the Disneyland of arts complexes—promises to deliver on some of its sites next year. The M+ pavilion even showed "Ambiguously Yours," a survey of gender fluidity in Hong Kong-made pop culture. Clearly, this straight-laced business town is loosening up.
Watch Kylie Jenner channel performance art icons like Marina Abramovic and Yoko Ono: