Art Basel Hong Kong Is Canceled Amidst the Coronavirus Outbreak
Just six weeks before it was set to start.
---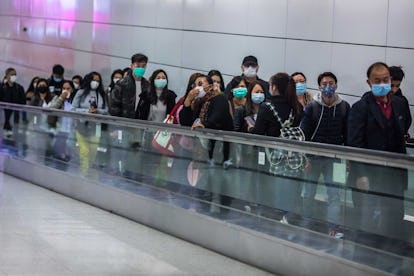 In a move that's seemed increasingly inevitable, Art Basel Hong Kong announced that it has canceled its 2020 edition, which was set to kick off in just six weeks. MCH Group, which owns Art Basel, "has no option but to cancel," it said in a statement. "Numerous factors informed this decision, including fundamental concern for the health and safety of all those working at and attending the fair; the severe logistical challenges facing the build-out and transit of artwork to the show; and the escalating difficulties complicating international travel, all arising as a result of the outbreak of the coronavirus."
To date, Hong Kong has confirmed 21 cases of coronavirus, including one death. Worldwide, the disease infected more than 30,000. The vast majority of those cases have been in China, where it has claimed more than 500 lives. In an effort to curb the disease's spread, the Chinese government has taken the unprecedented move to put an area affecting 56 million people on lockdown. As of this weekend, Hong Kong will be following suit: Authorities plan to mandate a 14-day quarantine for those arriving to the city from mainland China.
In other words, the timing isn't great for an event that last year saw 90,000 visitors from more than 70 countries. Nor is it ideal for an event like a triennial—the CAFA Art Museum has preemptively canceled theirs, which was slated for October—or a museum opening. (The collector Michael Xufu Huang has called off the inauguration of his new private museum.) Last month, a number of Art Basel Hong Kong's 2020 exhibitors began to realize as much; January saw galleries like Luxembourg & Dayan drop out, and the dealer Richard Nagy sum up the state of the fair as "commercially on artificial life support." (It "needs to be put out of its misery and quickly," he told CNN.)
And yet, uncertainty over the fair's future dates back to well before the coronavirus outbreak. There's also the matter of the ongoing protests in Hong Kong, which date back to last June. Riot police and water cannons have developed a regular presence, and the local art world has been struggling—and occasionally failing—to contend with the unrest. Hauser & Wirth still has yet to open the Annie Leibovitz exhibition that it postponed amid protests back in November. At that point, even the fair had to admit it was a "tumultuous time for us here in Hong Kong"—and that was just a month after it announced its exhibitor list.
Still, right up until this Thursday, Art Basel Hong Kong has remained adamant that it would proceed with this year's edition. After all, Art Basel Miami Beach managed to weather a Zika outbreak in 2016. (Though it did opt to call off its inaugural 2001 edition, in the wake of 9/11.)
For many, the news has come as a relief. But not everyone has been clamoring for Art Basel Hong Kong's cancellation. Last week, the Hong Kong Art Gallery Association issued a statement in support of the fair, condemning the "often myopic and narrow coverage or comments from abroad." Its vice president, Willem Molesworth, said that he would support a cancellation owing to coronavirus. But a cancellation due to political unrest, or an "outbreak of xenophobia and racism," he warned, would set a dangerous precedent.
Related: Plan Z: How the Art World Is Contending With the Specter of Zika at Art Basel Miami Beach 2016