Spotted! A White Gorilla Is Invading Art Basel and Instagram
The artist Pope.L wasn't exactly hard to spot in Switzerland – or Instagram – this week.
---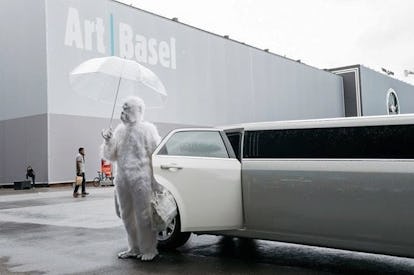 Photo by @istanbulartsnob.
The artist Pope.L sure knows how to make an entrance: He arrived to Art Basel in Switzerland earlier this week throwing white plantains out the window of a white limousine, and then emerged in a white gorilla suit. He wandered into the "Unlimited" section of the fair, much to the amusement of more sales-minded fairgoers, who he seemed to make digs at by toting a clear umbrella and a white shopping bag.
Pope.L's choice of color was not by accident: The New Jersey-born artist's long tackled race and class with his work, most notably back in 2002 with "The Great White Way," a film shown at that year's Whitney Biennial which captured the artist skateboarding on his back in a Superman costume for the full 22-mile extent of Broadway, in Manhattan, a distance he covered six blocks at a time over the course of nine years. While his Art Basel performance, titled "The Problem" and presented by New York's Mitchell-Innes & Nash gallery, only lasted for one night, it's living on in collectors' Instagrams – whether they got the memo or not.