Young Artists: Thomas Houseago & Aaron Curry
With buzz behind them and talent to spare, these six up-and-comers may be the art world's next big names.
---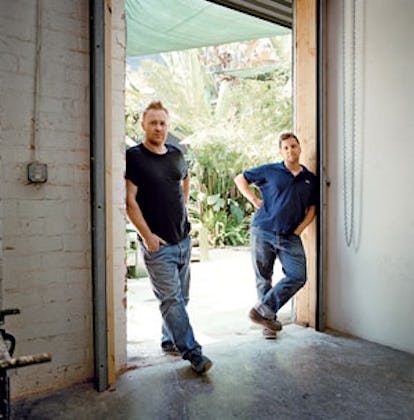 Aaron Curry and Thomas Houseago aren't partners, relatives or even collaborators. But when the two artists first met, four years ago on a plane from Los Angeles to Miami, they became fast friends over their shared fascination with Picasso. At the time, most ambitious young artists coming out of top schools were preoccupied with the conceptual strain of modernism as defined by Duchamp; Curry and Houseago favored the more painterly—and deeply unfashionable—modernist ideas announced by Picasso's Les Demoiselles d'Avignon, which revolutionized the staid portrait tradition and incorporated references to "primitive" art. Both Curry and Houseago had idolized the master since they were teenagers, and thus began an intense and sustained conversation that continues to inform their respective practices.
"Tom and I were more interested in taking Picasso's route," recalls Curry, whose studio, adjacent to Houseago's in L.A.'s Warehouse District, is stacked with works recently returned from his and Houseago's monthlong joint residency and exhibition at Ballroom Marfa in Texas. "It felt really radical."
"Aaron was one of the first people I met who I could talk about Picasso with," adds Houseago, who credits a high school trip to view Picasso's late-period paintings with establishing his belief in the "sublime" potential of art. "In art school I was told that art was at an end. The death of the author was a very big philosophical reference point, and I was really desperately unhappy about that idea."
Houseago, 37, is a garrulous and burly powerhouse who grew up in Leeds, England, and studied at London's Central Saint Martins College of Art & Design before moving to L.A. in 2003. The bashful Curry, also 37, was raised in San Antonio, Texas, and first studied Picasso and Dalí in books pilfered from the public library. A graduate of the School of the Art Institute of Chicago, he completed his M.F.A. at the Art Center College of Design in Pasadena, California.
After meeting en route to the opening of "Red Eye: Artists From the Rubell Family Collection," the two discovered other common interests, including popular music (the Beatles, the Smiths, Led Zeppelin) and the most classical inspiration in all of Western art—the human form. Today both are represented by Michael Werner in New York and this fall are again showing side by side at Berlin's new VW gallery, but their respective drawings and sculptures are strikingly distinctive.
Curry creates radically flattened silk-screen portraits from sketches made on a computer drawing pad and crafts elegantly anthropomorphic sculptures from flat plywood panels that nonetheless evoke Henry Moore's rotund bronzes. "I always want my paintings and sculptures to exist between the two-dimensional and three-dimensional," he says.
Houseago, in keeping with his outsize personality, makes large smeary charcoal drawings that owe an acknowledged debt to Picasso's primitivist impulse, while the sculptures he hews from massive blocks of redwood have the rough vigor of a Brancusi—or perhaps a folk artist's chain-saw carvings.
"I wasn't taught to draw at art school," House­ago says with exasperation at what he considers the high-concept prissiness of his curriculum. "I could talk for hours about Michel Foucault, but I couldn't draw. So I feel like I'm in a punk band. I'm completely unskilled. I feel like I just have to do it."
For both, L.A. affords the freedom to pursue their creative dialogue—and their individual work—unimpaired by art-world trends.
"If I decide Donatello is important to me, he's important," says Houseago, voicing a sentiment shared by his studio neighbor. "The same with Nirvana. Those two things can coexist."