Designers Are Donating Unused Fabric to UpWrap's Face Mask Initiative
Simone Rocha and Lucinda Chambers are just a couple fashion brands participating in the organization's collaborative effort with Art Partner.
---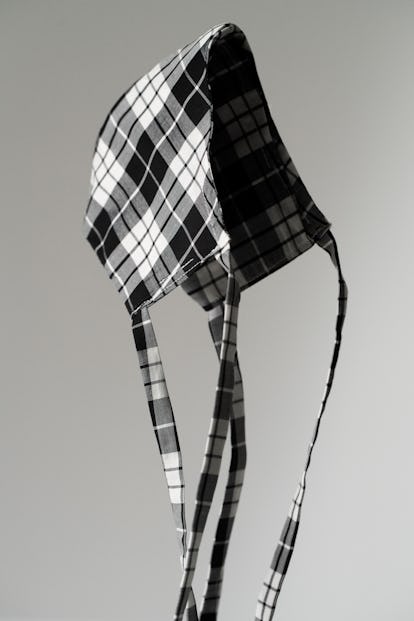 Photo courtesy of Art Partner and UpWrap/Dan Tobin Smith
Nationwide shortages in protective gear have given fashion designers renewed purpose during the coronavirus pandemic. Christian Siriano has converted his New York City production studio into an "assembly line," pumping out thousands of reusable fabric masks; Pyer Moss's Kerby Jean-Raymond flipped his brand's office to become a donation and redistribution center for N95 masks and latex gloves.
Now, designers like Simone Rocha and Lucinda Chambers are entering the fold, through an initiative helmed by sustainable gift wrap company UpWrap and the agency Art Partner.
UpWrap got its start in 2019 by reaching out to designers like Mary Katrantzou, Rokh, and Peter Pilotto to request unused scrap or overstock fabric that could be turned into recyclable wrapping material for presents. In the middle of the coronavirus pandemic, UpWrap's founder, Amber Testino, (who's also the managing partner at Art Partner), pivoted. Now that CDC guidelines require everyday citizens to wear face masks while in public, she heeded the call for increased production of face masks. Testino got in touch with friends of the company—Sunspel, Caroline Charles, and indie brands Cucumber Clothing and The Dangerfields among them—to ask them for odd off-cuts from samples and whatever else they could spare.
UpWrap also reached out to fashion schools like Parsons, London College of Fashion, the Royal College of Art, and the Istituto Marangoni in Milan, which offered to share the project with their students—as a result, many have joined UpWrap's contingent of volunteers, using spare time between their studies to sew masks.
Testino aims to provide PPE to at-risk communities that may not have access to medical-grade equipment—which is largely now reserved for frontline healthcare workers. The masks are going to elderly care centers, homeless shelters, schools, and non-profit health clinics. So far, materials have been sent to We are The Care Company, Smart Howard House, Pure Life Homecare, and The Oldfield School, all of which are in the UK.
"There's still a cultural resistance to wearing a mask," Testino said. "It is important that we embrace the mask as part of the new normal, at least for now. It can help that process to see the fashion community taking part—and it also helps to have fun patterns and a nice design."