Buy Affordable Art, Support Coronavirus Relief
Pictures for Elmhurst, Dream Sequence Editions and Magnum Photos are selling limited print editions for $150 and under to fundraise for local hospitals and healthcare organizations.
---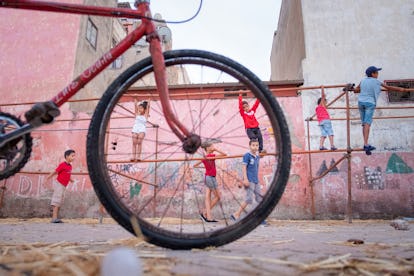 Old Medina, Casablanca (2017), photograph Yoriyas Alaoui Yassine.
Over the past few weeks, a handful of artist-run online platforms have cropped up to support coronavirus relief efforts in New York City and around the world, while also celebrating work by photographers, filmmakers, painters, and printmakers. There's Pictures for Elmhurst, a fundraiser for the hard-hit Queens hospital, which went live today; Dream Sequence Editions, which supports a handful of different charities with new releases every week; and Magnum Photos "Turning Points," whose proceeds go toward Doctors Without Borders. On each platform, the price for each edition ranges from $100 to $150, an affordable way to start building up your collection for a good cause. Learn more about the each initiative, here.
Inspired by a similar fundraiser that raised more than 727,000 euros for a hospital in Bergamo, Italy, the photographer Samantha Casolari brought together 96 New York-based photographers to support Elmhurst Hospital Center in Queens, one of the areas hit hardest by the coronavirus crisis.
"The most difficult thing as this lockdown began was feeling powerless to help. I was stuck at home in New York City with a 21-month old baby, unable to go outside due to an invisible threat," Casolari said in a statement. "The support from the photo community has been overwhelming; it's beautiful to witness such generosity and see firsthand how much New Yorkers want to give back to their city."
A $150 donation gets you an 8.5×11-inch print by the likes of Farah Al Qasimi, Pari Dukovic, Yelena Yemchuk, as well as frequent W contributors Ethan James Green and Max Farago. All except the $15 printing cost will go toward the purchase of life-saving equipment for the hospital. The fundraiser will run through April 20th, and prints will be produced and shipped when non-essential businesses are allowed to resume operations.
Launched last month by photographer Tim Barber, Dream Sequence is a homespun platform that releases a handful of prints each week. Fans of the short Instagram video project 2 Lizards Episode 1, by artist Meriem Bennani and filmmaker Orian Barki, can buy a still featuring the two protagonists. There's also a figure with cigarette limbs and a Purell bottle torso by Aurel Schmidt, a contact sheet by Petra Collins, and a peaceful still life by Yumna Al-Arashi. Already sold out: a social distancing-appropriate still from Uncut Gems, donated by filmmakers Josh and Benny Safdie, and a summery street scene by Daniel Arnold.
Each print costs $100, with $50 from each sale donated to charities such as Navajo & Hopi Families COVID-19 Relief, City Harvest, CERF+ Artists Safety Net and No Kid Hungry. A new batch of work (as well as their first t-shirt) will go live on Monday.
Magnum Photos 'Turning Points'
Created in collaboration with photojournalism nonprofit The Everyday Projects, the Magnum Photos "Turning Points" sale is made up of 120 signed or estate-stamped 6×6" prints by artists like Alec Soth, Elliott Erwitt and Bruce Gilden, each for $100—a pretty remarkable price for a museum-quality print of an iconic image. The lineup includes Erwitt's beloved photo of a couple kissing in a car's side view mirror, vintage street photography by Chris Steele-Perkins and Paolo Pellegrin, a backstage photo of 1950s Harlem fashion show by Eve Arnold and a kaleidoscopic portrait by Miora Rajaonary.
Magnum photographers participating in the project will be donating 50% of their profits from the sale to Doctors Without Borders' COVID-19 emergency response, and their donations will be matched by a private donor, up to a figure of $500,000. Launched earlier this week, the site will be up until Sunday, April 12th at 6 P.M. EST.
Related: Want to Volunteer and Support Coronavirus Relief? Here are Some Ideas