Young Artists: Sterling Ruby
With buzz behind them and talent to spare, these six up-and-comers may be the art world's next big names.
---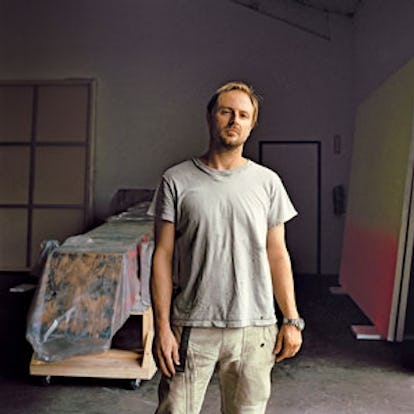 Sterling Ruby's studio is huge: a compound of buildings, all painted flat black, on three quarters of an acre in Vernon, California, just southeast of downtown Los Angeles and directly beneath an LAX flight path. The artist has a versatile practice that incorporates sculpture, drawing, painting and ceramics, and each medium has its own workshop fronted by a garage door, giving the place the look of a large-scale, if very clean, brake-and-muffler shop.
Walk into one of the bays, however, and what you see instead of Pirelli calendars and BMWs on lifts are the artist's "nail polish paintings"—shiny mirrored wall pieces featuring images of pre- and postoperative transsexuals splattered with bloodred nail varnish—and his signature poured-urethane "stalagmites." These impressive sculptures are as tall as 16 feet and grew out of Ruby's fascination, he explains, with materials that could record the "truncation of gesture, a kind of malleability that got frozen"—although he also hopes the works can stand alone without that sort of theoretical scaffolding.
"I want to allow people to say, 'Wow, that's f—ed up,' and place their own kind of read on them," says Ruby, 37, who is a compact spark plug of a man, with a mountain climber's bristling ambition and a punk rocker's asymmetrical haircut.
The stalagmite in front of him in the studio is one of six from "Supermax 2008," Ruby's solo exhibition at the Museum of Contemporary Art in Los Angeles last year, and he had planned to keep it for himself. "But," he notes suavely, "a museum offered to buy it."
Ruby is sending a lot of work out of his garage doors these days. The artist has signed with New York gallery PaceWildenstein, where he'll have a show in March, and he's currently preparing for exhibitions in Portugal and Brussels, as well as putting the finishing touches on what he calls "a really, really big installation" at megacollector Michael Ovitz's new art villa in Beverly Hills. "Production is at the center of Sterling's practice," says MOCA curator Philipp Kaiser. "It is about overwhelming the viewer with objects, color and surfaces."
Born in Germany to an American father and a Dutch mother, Ruby was raised on a farm in rural eastern Pennsylvania. After graduating from high school, in 1990, he worked in construction and started art classes at a local college to help cope with his depression. He enrolled in 2000 at the School of the Art Institute of Chicago, where he voraciously read Lacan, Derrida and other contemporary philosophers and studied the early videos of Bruce Nauman, Paul McCarthy and Mike Kelley. He went on to the M.F.A. program at Pasadena's Art Center College of Design, serving as Kelley's teaching assistant for two years, but never officially graduated because his review committee, split on the merits of his 2005 thesis show, didn't approve it. The work nonetheless grew into "Supermax 2008."
"'Supermax' had a viral effect, and, like everybody else, I was one of the victims of Sterling flu," says PaceWildenstein's Marc Glimcher. "This guy makes objects that are irresistible."
Ruby happily acknowledges that, unlike his more conceptual role models, he is most motivated by the daily labor of making a variety of things in the studio. "I like that kind of schizophrenic, frenetic energy," he says of his polymorphous creativity. "I could never sit here and make stalagmites for the rest of my life."