Art Therapy: What to See For Your Post-Election Woes
New York's best medicine for coping with a Trump presidency, from the Brooklyn Museum to the Met Breuer.
---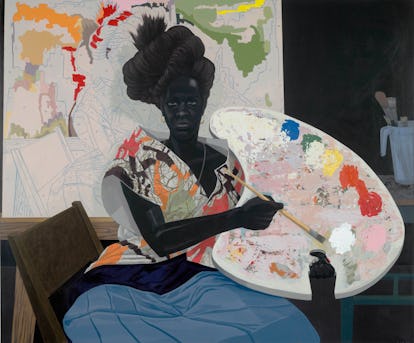 The Brooklyn Museum usually has an admission fee of $16, but this weekend the institution's offering free admission "as people search for a sense of national unity." The reference, of course, is to the results of the election, which many — and many artists among them — have come to consider a national tragedy.
This weekend, then, has been one for coping. And for those New Yorkers willing to venture out of their homes, the experience of seeing art has proven a useful antidote. Here, the best works to see in the city this weekend and in coming weeks, from all-immersive installations like Pipilotti Rist at the New Museum that serve as beautiful distractions to racially focused shows that'll get you ready to mobilize, like Kerry James Marshall and Benny Andrews' recaps of African-American history.
If coaxing yourself outdoors doesn't sound like a possibility anytime soon, start off slow with Ernesto Neto's "The Serpent's Energy Gave Birth to Humanity" at Tanya Bonakdar gallery in Chelsea. The Brazilian artist's latest crochet installations have been formed into a brightly colored, cocoon-like tunnel and fort, where lately visitors have taken to holing up and even playing guitar.
There is perhaps no better place to forget yourself in the city right now than on the three floors of the New Museum that make up "Pixel Forest," an all-immersive exhibition from the Swiss artist Pipilotti Rist. Take in her empowering and occasionally goofy videos from the double beds, and then venture into the dreamy LED-lit forest, where an underwear chandelier helps keep things light.
Also in way of distraction, the Brooklyn Museum's exhibit "Who Shot Sports," free of charge this weekend, encompasses the last 173 years of sports photography. It's a testament to teamwork, but also an impressive display of muscles to marvel at, from American Olympics teams of the 1800s to inspirational figures of the present, like Serena Williams.
The Alabama-born artist Kerry James Marshall has spent his life painting the black canon, making up for the oversights of Western art history by peopling his scenes and canvases with exclusively black figures. Seventy-two of those works are now on display the Met Breuer's stunning retrospective, "Kerry James Marshall: Mastry," asserting the artist's rightful place amid the mostly white masters institutions have long glorified.
Though the images are decades old at this point, the photos that make up Carrie Mae Weems' Kitchen Table Series have been sparking discussions of race, relationships, and the role of women for years. And while their power still undeniably endures, Weems also has a new show up at Jack Shainman Gallery — her first since her 2014 retrospective at the Guggenheim — which confronts police killings of African Americans and the media's portrayal of black culture, featuring recreations of the sets of shows like "Scandal" and "Empire."
From 1970 to 1975, the artist Benny Andrews celebrated America's 200th birthday by capturing his feeling as an African American in the country, memorializing the issues — war, incarceration, and inequality among them — he had a hunch might be excluded from the official narrative in six separate series of paintings and drawings. Altogether, they form the Bicentennial Series, an inspiring mix of sketches and monumental works formed by 12 canvases that's now on display as a group for the first time at Michael Rosenfeld Gallery, marking a historical era as we ready to head our way into the next.