Art World Can't Get Enough of Agnes Martin
Casey Crowe Fremont, Daniel Arsham, Diane Brown, and designer Maria Cornejo were among those at a COS-hosted dinner Tuesday night to take in the massively popular Agnes Martin retrospective
---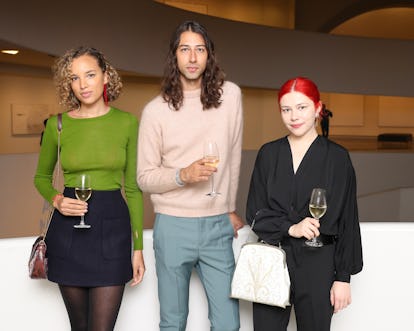 Neil Rasmus/BFA.com
One of the few certainties when attending a party at the Guggenheim Museum is that you'll get something of a workout in. Well, that is, if you care to see the work on display.
On Tuesday night, Euro-cult-brand COS organized a trek to view the enormously popular Agnes Martin retrospective, which has enjoyed something of a journey itself, opening in early October in New York after traveling from the Tate Modern in London, then LACMA and the Kunstsammlung Nordrhein-Westfalen in Düsseldorf.
"It's incredible," Maria Cornejo said, lingering by "Harbor Number 1," an oil painting of faint chalk-white and filmy grey floating shapes. "And in this age of Instagram, I love that it's not Instagrammable. It's intimate." (COS' involvement is that a 12-piece capsule – a $250 waffle knit cashmere dress, etc. – was created by creative director Karin Gustafsson in conjunction with the show.)
Moneyed hedge funders and their pashmina-wrapped dates still gave it a go, moseying up the rotunda iPhone in hand. One prays they didn't give any of Martin's works dog ears. Down below, the art party staples – Casey Crowe Fremont, Daniel Arsham, Diane Brown, Richard Phillips – blew in, air kissing over jiggling trays of Champagne. Francis Farewell Starlite of Francis and the Lights gently played the piano during cocktails.
"It worked out, didn't it?" one of the organizers said of the switch up – Dev Hynes (or Devonté Hynes, as was printed on the invitation) was originally supposed to be at the keys but canceled at the last minute. "Its a lovely accompaniment to the work, don't you think?"
Over brimming glasses of Malbec, dinner conversation oscillated between Art Basel takeaways and preemptive ennui over the demands of the upcoming week, a particularly active one on the social calendar.
Outside, smokers took a break. "What a week," someone sighed, waiting for her Uber in front of the museum's swirling edifice. "Ah, he's here. See you at Coach?"