Artist Christo Halts Latest Project, Blames Donald Trump
Famed artist Christo won't go through with his planned project "Over The River," because the land needed is controlled by the federal government.
---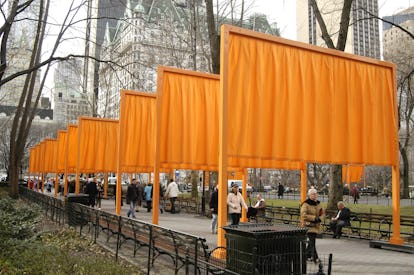 Robin Platzer
Famed artist Christo has lost his will to create a passion project he's been planning since 1992. The reason: Donald Trump.
The 81-year-old landscape-altering artist is famed for his public art projects, including installing thousands of orange gates throughout New York City's Central Park, wrapping islands off the coast of Miami in pink fabric, and wrapping monumental buildings in fabric.
For his next project, tentatively titled "Over the River," he had hoped to temporarily install 6.7 miles of shiny, silver fabric over a stretch of the Arkansas River near Cañon City, Colorado. It was an idea he had first dreamt up alongside his late wife Jeanne-Claude back in 1992 and has been slowly planning for ever since.
Though the stretch of river in question is under the guardianship of the federal government, with its recent change of leadership Christo is no longer interested.
"I use my own money and my own work and my own plans because I like to be totally free," he told *The New York Times*. "And here now, the federal government is our landlord. They own the land. I can't do a project that benefits this landlord."
In case you didn't catch the reference, "this landlord" is Trump. Christo, who was born in Bulgaria and left when it was under communist control, also cited the fact that he had already escaped one authoritarian government as part of his reasoning.
There is, however, a larger political drama at play, and one that makes the Trump administration and environmentalists strange bedfellows. Local eco-minded groups in the area have opposed Christo's project citing concerns as to how the two-week installation would have impacted wildlife. They also had concerns about holes that would have had to have been drilled along the riverbank in order to anchor the fabric.
"Whatever Christo's motivations are, more power to him as long as the decision is to cancel the project," said Joan Anzelmo, a spokeswoman for Rags Over the Arkansas River, a group started to oppose the project, told The Denver Post.
Tourism officials in Cañon City are particularly bummed though. If completed, the project likely would have attracted scores of art lovers to the area.
Christo himself will also have to write off the $15 million he's already invested in the project. The artist supports himself and his endeavors by selling artifacts and planning documents associated with his larger artworks.
He'll now dedicate his attention to another planned project near Abu Dhabi. Dubbed "The Matsaba," Christo will construct a trapezoidal object made out of around 400,000 oil barrels. Unlike the rest of Christo's artworks which are transient by design, this one would remain permanent.
Incidentally, some internet activists had proposed that Christo put his talents to work in a more direct way in opposition to Trump. A Change.org petition calls on Christo to erect a wall along the Mexican border made of orange fabric rather than impassable concrete as a spiritual sequel to his 1976 project "Running Fence." Though, it seems that the petition was more of a statement in itself than something that will actually come to be.
Watch W magazine's most popular videos: