Meet Sol LeWitt's Artist Daughter Eva LeWitt
The 30-year old artist is breaking through on her own in a new group show at London's Studio_Leigh gallery.
---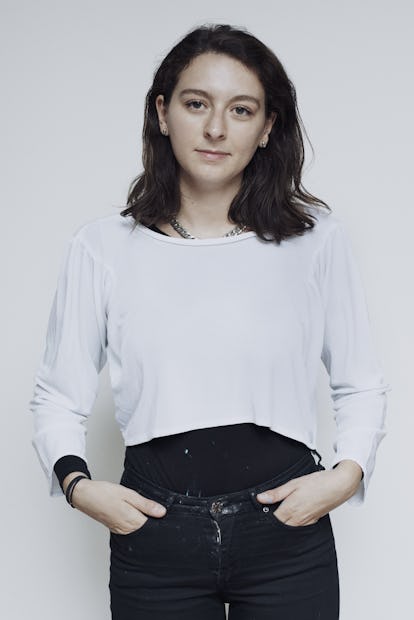 Photo by Edd Horder. Produced by Biel Parklee.
When she was all of six years old, Eva LeWitt was already working side-by-side in the studio with her father, the late, great conceptual artist Sol LeWitt. "He always made me a space where I could work next to him," said Eva, now 30. "I would use all of the extra materials that were lying around to make sculptures out of them."
Sol LeWitt rose to prominence in the 60's with his intricate, minimalist wall drawings, and large-scale geometric sculptures that he constructed from wood, metal, and plastic. And while it looks at first glance that his daughter Eva shares a similar visual vocabulary, she departs in her use of softer forms and materials, gravitating towards the malleability of paper, rope, sponge, and telephone cord. "I tried to make work in metal and wood, but felt I couldn't totally manage those materials on my own," she explained. "I couldn't quite control and manipulate them the way I wanted to without outside help. I don't like to have work fabricated. I like to touch everything, have a personal connection with it. [My father] was much more comfortable having other people execute his work—that was the effect he wanted. He didn't want the hand of the artist to show in all of his work."
Her newest pieces, which are currently on view in the all-female group exhibition "All Over," at London's Studio_Leigh gallery, is an exercise in form and material. LeWitt interweaves rows of blue and red nylon webbing (commonly used for seat belts) with delicate handmade balls of red clay and thin sticks of styrofoam. "There's this play between the handmade and the manufactured," she said. "I want to see what the clay balls do to the material, and the effect they have." Because the show falls in the middle of summer, LeWitt found herself naturally inspired by the season and the geometry of poolside seating, towel racks, and beach chairs. "I always had these summer vibes in mind," she continued. "I've been playing with the idea of chairs and seating [in my work] for a long time. I find chairs to be human and relatable—there's a kindness to them."
Meet Sol LeWitt's Artist Daughter Eva LeWitt
Photo by Edd Horder. Produced by Biel Parklee.
Photo by Edd Horder. Produced by Biel Parklee.
Photo by Edd Horder. Produced by Biel Parklee.
Photo by Edd Horder. Produced by Biel Parklee.
While it's clear LeWitt has forged her own path, she readily admits it has been one heavily influenced by her father and her artistic upbringing. "His work was so large-scaled, there were huge rooms with wall drawings," she recalled. "It was an environment itself to grow up in, an immersive and important experience." But inspiration came from not just her father but his artist friends, such as Claes Oldenburg, Alighiero Boetti, Franz West, and Scott Burton.
"We had a lot of art around, and I knew a lot of artists," she said. "Which led me to think that being an artist was just the thing to do when you grow up."
Watch all the episodes of "The Myth of Orpheus and Eurydice," a four-part film series by Gia Coppola, here. Produced for Gucci by W magazine.