Uh Oh, Where Did the Louvre Go?
The street artist and French troublemaker JR is leaving his mark on the world's largest museum.
---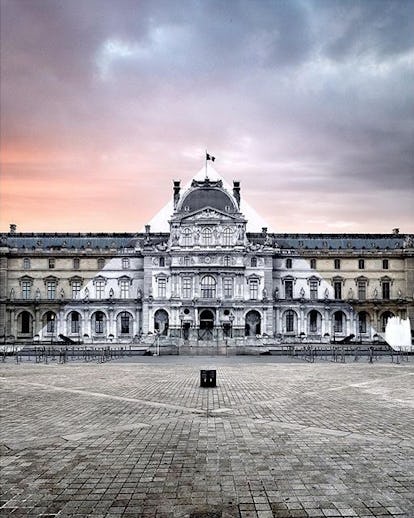 Tourists in Paris this summer may have some momentary trouble finding one of the city's most noted landmarks, thanks to the mysterious French artist JR. The provocateur got his start wheat-pasting his enormous images on the streets of everywhere from Shanghai to Brazil, though in the 10 years since, he's aimed a bit higher: covering the bustle of Madison Square Park for the New York Times, for example, and even collaborating with Pharrell for W. And his latest target? No less than the world's largest museum. ____ This week, he performed a vanishing act on the Louvre's famous entrance, overlaying I.M. Pei's glass pyramid with an image of the institution's façade to effectively camouflage it with its background. The addition's getting a real welcome this weekend with a free 24-hour performance series, but since its completion on Wednesday, it's already found quite the homecoming on Instagram – hardly a surprise for the museum that reportedly attracts the most selfies.
Watch W's most popular videos here: