Artist Olek Covers Two Homes in Hot Pink Crochet
In collaboration with Syrian and Ukrainian refugees, the New York City-based artist Olek makes a statement about the refugee crisis with pink crochet.
---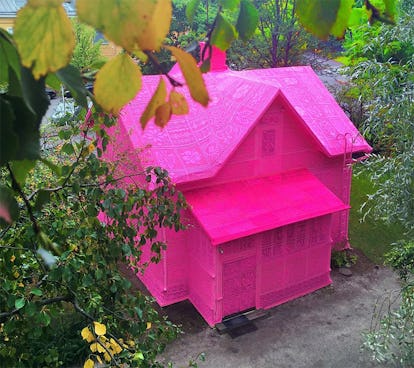 Image via Olek's Instagram
Earlier this year the artist Olek was commissioned to recreate a home made entirely out of yarn for the Verket museum in Avesta, Sweden. She found herself working alongside many refugees from the Ukraine and Syria to complete the project. While she ultimately decided to destroy the original museum installation, she was so inspired by the stories of the refugee women that she decided to leave something else behind in Scandanavia.
The Polish-born and New York City-based artist set out to cover two old homes, one in Avesta and the other in Kerava, Finland, in hot pink crochet.
Known for elevating crochet, often seen as something between a traditionally feminine hobby and chore, into a form of activist art, Olek hopes that the homes and the story behind their creation make a statement about the worldwide refugee crisis.
"When I first came to Avesta to install a work of art at the Verket museum, I had originally intended to recreate a traditional home," the artist explained in an Instagram post. "And I did. However, when the Syrian and Ukrainian refugees who helped me install my piece started telling me the candid stories of their recent experiences and horrors of their home countries, I decided to blow up my crocheted house to illustrate the current unfortunate situation worldwide where hundred of thousands of people are displaced. After I exploded the house I wanted to create a positive ending for them as a symbol of a brighter future for all people, especially the ones who have been displaced against their own wills. Women have the ability to recreate themselves. No matter how low life might bring us, we can get back on our feet and start anew."
"We can show everybody that women can build houses, women can make homes. In 2015 over 21 million people lost their homes due to war and conflicts in their native countries. The pink house, our pink house is a symbol of a bright future filled with hope. Everybody should have a home."
The project first started months ago with Olek securing the donated homes.
Then came securing the massive amounts of yarn needed to create the pink crochet project.
Dozens of people, including refugee women and their families, were enlisted to help create the project. A young boy even got to help by designing a Pokemon-themed panel.
The Avesta home was completed first.
Then the process was mirrored in Kerava.
The final product was captured by drone photography.
"Originally, this building, built in the early 1900s, was the home of Karl Jacob Svensk (1883-1968)," wrote Olek of the second home. "During the Winter War 1939-1940, the family fled to evade bombs falling into the yard, but they didn't have to move out permanently. In 2015, more than 21 million people were forced to leave their homes in order to flee from conflicts."
"The pink house, our pink house is a symbol of a bright future filled with hope; is a symbol us coming together as a community. I'm very proud of all ladies who joined me in this journey. Thank you for your hard work."
Watch W's most popular videos here: