Artist Rob Pruitt Plans to Unfollow @POTUS After the Inauguration
The artist who painted no less than 2,922 portraits of President Obama shares what's helping distract him from Donald Trump in his culture diet.
---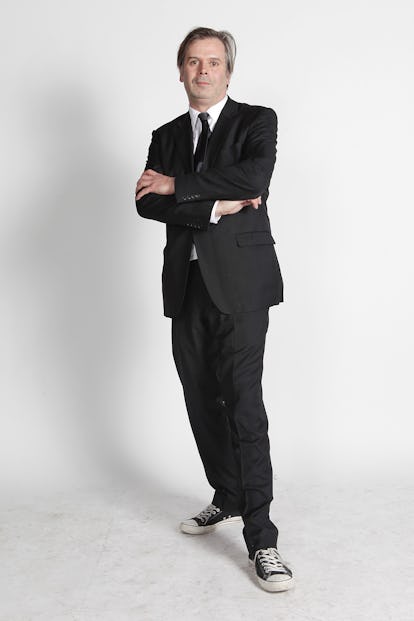 Roger Kisby/Getty Images
The artist Rob Pruitt was all set to put on a celebrity-filled show at Gavin Brown's Enterprise in November, but in the weeks immediately following the election, he made a last-minute decision to instead focus on just one: Barack Obama, of whom he's produced no less than 2,922 two-by-two-foot portraits of every single day over the course of his presidency. Before his muse clears out of the White House come January for a candidate who seems much more likely to have Pruitt drawing up protest signs, given his involvement in Dear Ivanka, the art world-led movement against Donald Trump, Pruitt shares his culture diet, here.
First thing you read in the morning: News from the Google News App. I start with the headlines, then I click on World News, then U.S. News, and then Entertainment. Then I look at Instagram.
Books on your bedside table right now: Under the Big Black Sun: A Personal History of L.A. Punk by John Doe—I lived in L.A. for a minute in the early '80s, so this really takes me back—and The Art of Living by Saul Steinberg, which is a big picture book, so it makes me feel like a kid with a bedtime story. Plus, I love the pictures so much they almost make me want to get a tattoo of one of them. And Hard Choices by Hillary Clinton. I guess I've been in a state of denial and wanted to turn back time.
The TV shows keeping you up at night: Just finished watching Ken Burns's four part miniseries The Dust Bowl last night. Totally mesmerized. I hadn't realized that the dust storms of the 1930s were a manmade disaster. A thing I watch habitually before going to bed is the Douglas Sirk movie There's Always Tomorrow with Fred MacMurray and Barbara Stanwyck. This is no exaggeration: I think I've seen it more than 100 times. And I bought the entire seven seasons of The Mary Tyler Moore Show on iTunes. It's my place of Zen.
Last movie you saw in theaters: Jackie. I'd see anything with Natalie Portman.
Last thing you saw at the theater: Don Giovanni. I was there with my husband's parents and ran into my neighbors who were coincidentally there with their parents. We had champagne and ran over to see the Elizabeth Peyton show at the Met Gallery. It was fun.
Last piece of art you bought, or ogled: A photograph of a hummingbird by Russell Ogg. He photographed hummingbirds toward the end of his life, after he lost 95 percent of his vision.
Last museum exhibition that you loved: Kai Althoff at MoMA. I love the extraordinary pavilion he constructed to show the work in. It was beautifully overstuffed, like a curiosity shop. Some of the paintings were still in their brown paper wrapping from transport, and the air seemed to smell of an old French perfume.
Release you're most eagerly anticipating: I cannot wait for the final season of Girls on HBO. I'm a total Girls fanatic. I've seen every episode multiple times.
Last song you had on repeat: "OOOUUU" by Young M.A. Just before that, I really loved Miranda Lambert's song "Vice." And for the whole summer, I had Beyoncé's entire Lemonade album on repeat.
Last concert you saw live: Britney Spears in Vegas. Great stagecraft and Britney didn't disappoint!
What you're most looking forward to in 2017: Being a more responsible citizen, really becoming involved in local and national politics, and not being complacent.
Favorite social media accounts to follow: On Instagram, @tavitulle, @rrainaterrorr, @jackpierson9, and @paulinedaly. On Twitter, @SarahKSilverman and @POTUS—until January 20th, anyway.
Favorite painting in "The Obama Series": Obama's in the lower lefthand corner and he's just shot a basketball, which is hanging in space in the upper righthand corner like the sun. It's beautiful, if I do say so myself.
Last thing you do before you go to bed: I put some Sisley Sisleÿum anti-age crème on my smile lines, and then I brush and floss.
See W's most popular videos: