Take a Stab
There is very little art to stick 'n' poke tattoos. So why are so many artists drawn to them?
---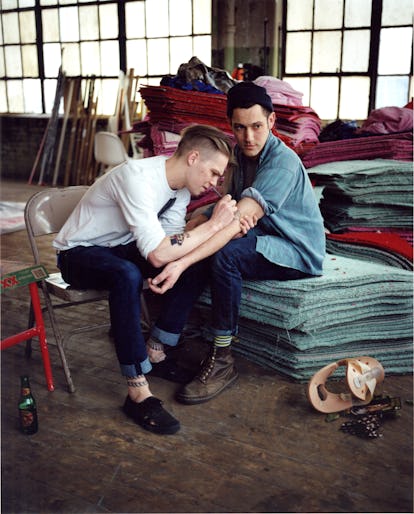 Photographer: Andreas Laszlo Konrath and Biel Parklee
In a 2,000-square-foot studio on a less than desirable stretch of North Philadelphia, the artist Alex Da Corte is getting a new tattoo. He sits on a pile of carpets (material for an upcoming show) as his friend Shane Coslett, a boyishly handsome artist-bartender, repeatedly stabs his inner arm with a metal pin dipped in ink. Rap music blares from junky speakers. After 30 minutes—including breaks for beer and cigarettes—Da Corte has the word wawa etched into his arm, an eternal homage to a local 24-hour convenience store chain best known for its hoagies.
These crude tattoos, or "stick 'n' pokes," as they are known, adorn the arms, legs, torsos, and even inner lips of countless artists, who are drawn to their homemade quality and the way in which they are created. The procedure is simple: Stick a needle or other sharp object into ink, then poke it into the flesh. Repeat. In a quiet room, one can even hear the pop as the needle punctures the skin. "It's really slow and methodical. Every dot matters," says Da Corte, a rising star with shows currently at Copenhagen's David Risley Gallery, Stockholm's Carl Kostyál, and London's White Cube.
Da Corte's body is peppered with stick 'n' pokes, and he's done them on his friends. But, as is often the case, his first was a selfie: a hangman board with five blank dashes. Its imperfection is its charm. "A really nice one is completely fucked," he says.
At the stick 'n' poke parties sculptor David Alexander Flinn hosts in his apartment in Fort Greene, Brooklyn, spontaneity is stressed. "It shouldn't be too thought out," he says. "That's how people end up with crack foxes wearing cross rosaries."
The last person you might expect to have a stick 'n' poke is the elaborately and meticulously inked Scott Campbell, who owns Williamsburg's famed Saved Tattoo shop. But on his left leg is a fuzzy chicken head that was given to him with a safety pin and a Bic pen on a long-ago summer evening in Montauk by his friend the artist Wes Lang. "It looks so terrible that he ended up tattooing the word sorry underneath it," Campbell says. But, he adds, "those few square inches on my leg are much less important to me than the memories that I have with Wes. It's the perfect tattoo."
Shane Coslett poking Alex Da Corte.

Photographer: Andreas Laszlo Konrath and Biel Parklee
A love letter on the arm of David Alexander Flinn.

Photographer: Andreas Laszlo Konrath and Biel Parklee
A close-up of Da Corte's latest tattoo.

Photographer: Andreas Laszlo Konrath and Biel Parklee
A chicken head, among the many tattoos on Scott Campbell's leg.

Photographer: Andreas Laszlo Konrath and Biel Parklee