Artistic Director Anna Boglione Knows How to Put On a Show
Get to know the British It girl here.
---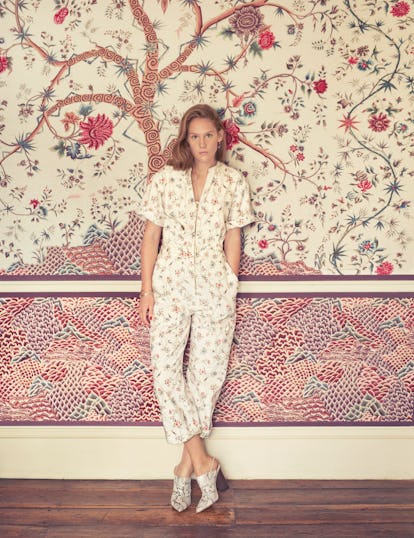 Photograph by Sean Alexander Geraghty, Styled by Gianluca Longo, Edited by Sam Milner; Thomas Silverman for Bumble and Bumble; Verity Cumming for Bobbi Brown; fashion assistant: Lucas Asin.
As the founder of Petersham Road, a London company that creates immersive site-specific events, Anna Boglione can really draw an audience. "You want to tell them enough so that they're enticed to come, but not so much that they know what's actually going to happen," says the 28-year-old, whose productions have included the Juke Joint, a rhythm-and-blues barrelhouse that was part of the 2014 ­Wilderness Festival, in the U.K., and the Realm of Shunga, a futuristic Japanese speakeasy that popped up at London's ­Hoxton Docks this past spring.
The daughter of Gael and Francesco Boglione, the owners of the ­Michelin-starred Petersham Nurseries, and its adjacent greenhouses, in Richmond, England, Boglione spent her formative years on those bucolic grounds, working as a dishwasher and managing the teahouse. After studying acting in New York, she started Petersham Playhouse, staging ­performances in her family's capacious home. "It stressed my mother to have me ­pulling out her furniture every few months," she says. Next year, in Camden, Boglione plans to mount Pour Me Out Another Phone, a theater-dance piece based on David Bowie's album Aladdin Sane. "It's the whole idea of reverting back to being a child and having that time to be able to play and get lost. I'm trying to create an escape."
Be Garden Party Ready like It Girl Anna Boglione
Calvin Klein Collection dress.

Photograph by Tim Hout, Styled by John Olson
Photograph by Tim Hout, Styled by John Olson
Photograph by Tim Hout, Styled by John Olson
Kathleen Whitaker earrings.

Photograph by Tim Hout, Styled by John Olson
Photograph by Tim Hout, Styled by John Olson
Photograph by Tim Hout, Styled by John Olson
Watch W's most popular videos here: