Artists Are Not Handling the Trump Victory Very Well on Instagram
Dark days may be good for creativity, but artists took to Instagram to visually share their dismay at Donald Trump's Victory.
---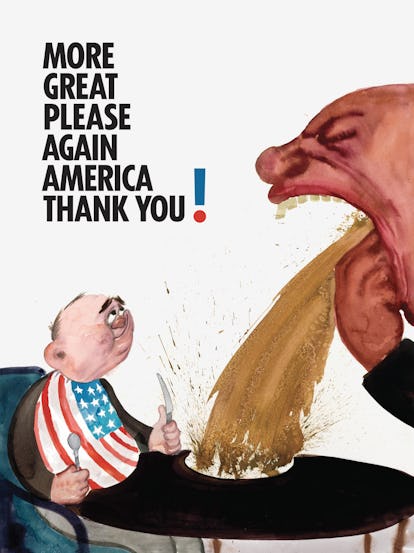 Illustration by Sanya Kantarovsky for W Magazine.
Maybe one of the good things that can be said about uncertain, right wing-leaning political times is that they tend to produce some pretty great art. Typically left-leaning creative types often channel their frustrations and fears into powerful pieces, but thanks to the immediacy of Instagram you don't have to wait until gallery openings a year form now to get a glimpse into how the art world is reacting to Donald Trump's election.
The creative portion of the art world, predictably, is not happy with Donald Trump's victory. Artists like Ai Weiwei and Kenny Scharf seem to be convinced that the world itself may be ending, at least according to their postings. Ironically, art dealers are actually pretty hopeful. Art News spoke to art business insiders the day after Trump's victory, and they think he might actually help the art market (though, those who also describe themselves as liberals aren't happy about it).
"You have to separate the confusion and disappointment in the art world, and the macro-economic realities," said Benjamin Genocchio, the director of the Armory Show. "That's the paradox of the situation: the kind of people who participate in the art market are looking at a huge financial windfall."
A movement so many believed would come to damn the elites may pave the way for them having the ability to buy even more expensive things!
In any event, the creative types aren't enjoying that silver lining. As we asked some art world luminaries to creat political poster for us before the election, it seems natural to check in on artists' Instagrams afterward.
Kara Walker
The painter known for her exploration of race, gender and identity, is shook by the racial implications of Trump's win in a pointed doodle.
David Shrigley
The British doodler brings dark meaning to the phrase "as American as apple pie."
Ai Weiwei
Without comment, Weiwei just posted international headlines.
Kehinde Wiley
Wiley repurposed one of his paintings for a provocative post.
Daniel Arsham
The artist paired his own American flag-inspired work with a quote from John F. Kennedy.
Marcel Dzama and Raymond Pettibone
The duo debuted a new painting, "Who Knows What'll Happen? But it don't look good."
Zoë Buckman
Buckman was gearing up for a protest with a slight wardrobe tweak.
Thomas Houseago
Houseago wonders if America will actually recover.
Hank Willis Thomas
Apt.
Sanya Kantarovsky
The painter realized that not even Dr. Seuss provides much hope or the situation.
Shepard Fairey
The artist behind Obama's "Hope" poster (who felt that the president never truly lived up to the image, and only reluctantly came to support Clinton after getting behind Bernie Sanders in the primaries) was gutted by the outcome.
Laurie Simmons
Simmons expressed her feeling through the work of another artist, Margaret Keane.
Kenny Scharf
The street artist wasn't subtle.
Alex Prager
The photographer also used the work of another, Diane Arbus, to visually comment.
Olek
The feminist yarn artist unveiled a giant pro-Hillary piece before the election and says she's still with her.
Nick Knight
Photographer and filmmaker Nick Knight shared at least a little bit of hope.