As Alex Katz Teams Up with H&M, Are Artist Collabs the New Fast Fashion Trend?
H&M has enlisted artist Alex Katz to collaborate on men's women's and homewares. Is this a beginning of a new trend?
---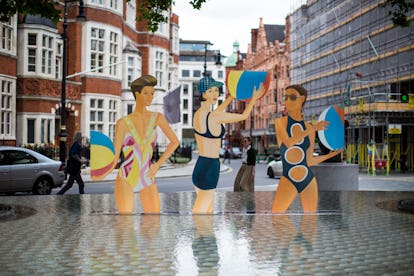 Getty Images
Ever since Karl Lagerfeld decided to design a line for H&M, high fashion designers and brands doing one-off capsule collections for fast fashion brands has been de rigueur. At the same time, material output resulting from the unions of high fashion and high art have increased. Think Richard Prince bags for Louis Vuitton, Sterling Ruby paintings interpolated into fabrics for Dior or Marina Abramović art directing a Givenchy show.
Well, it appears that high street brands and high-minded artist may be cutting out the middle man, and getting into some collaborations of their own.
To wit, H&M has enlisted American figurative artist Alex Katz, known his brightly colored portraiture, as the latest to design a capsule collection. Katz's signature style will be woven into clothing for men and women as well as homewares.
"The partnership with H&M surpassed my expectations," Katz told Vogue. "It is exciting for me to work with H&M to make my art more accessible to more people."
No preview images of the products are out yet, but they'll debut in stores and online on December 1st (just in time for your bank account to recover after H&M collab with Kenzo hits stores on November 3rd).
This is not quite the first time H&M has worked with an artist. They enlisted Jeff Koons to design a one-off handbag back in 2014. The black leather purse featured an image of one of Koons' signature balloon dog statues.
CoS, a higher design brand owned by H&M, has also dipped into the art collab waters. Currently, they're selling a collection inspired by an exhibition of minimalist artist Agnes Martin at the Guggenheim. CoS also put out both a shoe and backpack in conjunction with the British Serpentine Galleries.
Uniqlo meanwhile has an ongoing partnership with MoMA which results in works by artists like Andy Warhol, Keith Harring, Julian Opie and Yayoi Kasuma printed on t-shirts. Gap has teamed with Visionaire to produce shirts with artwork for both the Frieze Art Fair in London and Art Basel Miami Beach.
Even Forever 21 has sort of circled around the trend in their own way by collaborating on clothes with graffiti artists like Alec Monopoly and Ron Bass.
The Katz x H&M line takes a low-key​ trend that's been simmering for the past few years and puts it to the test by blowing it up into a full on collection designed directly with an artist. The fact that Katz, while well known within the art world, isn't exactly Art History 101 famous also seems significant.
If H&M tries something once and it proves successful, they usually don't stop there. Meanwhile, their competitors usually take not as well. Is this the start of a bold new trend? It could be if you go out and decide your wardrobe and home need big Alex Katz-inspired upgrade in December.