A$AP Rocky's Throwback Jam
In a collaboration with Guess, A$AP rocky remixes the brand's classics with swagger.
---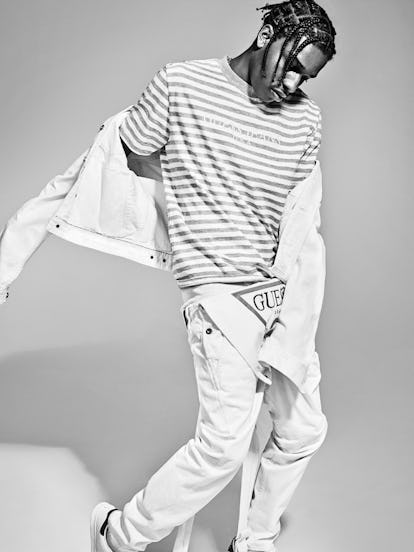 Photographer: Chad Pitman Stylist: Deborah Afshani
Once upon a time, hip-hop's love affair with the sportswear brand Guess was so torrid, it felt like life and death. "When I dress, it's never nothing less than Guess," Nas rapped on his 1994 album, Illmatic. The desperate resorted to bootlegs, as André 3000 pointed out in a 2000 interview: "Some fake Guess—sew the Guess sign on some Gap jeans." If you weren't careful, you might have even been mugged for the triangular patch on the back of your distressed jeans. "People were ignorant enough to literally kill someone over it," A$AP Rocky recalls. The 27-year-old musician grew up in Harlem surrounded by Guess loyalists—even his parents wore Guess.
These days, the artist who bragged, "I spent $20,000 with my partners in Bahamas/Another $20,000 on Rick Owens out in Barneys," may be second only to Kanye West in his devotion to ultra-high-end labels, but he hasn't lost any love for the clothes of his youth. After years of trolling consignment shops and eBay for vintage Guess, Rocky finally approached the brand about working together to revive seminal pieces from the '80s and '90s. "I had this urge for people to appreciate and acknowledge what Guess stood for," he says. "Then I was like, 'Why don't I be that guy?' "
Guess Originals x A$AP Rocky leans heavily on acid wash, pinstripes, and that signature triangle logo, updated with some Rocky flourishes (the telltale sign is the spelling: GUE$$). The women's capsule collection, which includes high-rise shorts, overalls, and denim swimwear, is sexy and fun, successfully straddling nostalgia and irony. (Banking on its success, Guess is lining up more Originals collaborations.) But don't expect Rocky to be showing his own designs on the runway, à la Kanye, anytime soon. "I'm not a designer," he clarifies. "I just know what's dope."
Hair By Sheridan Ward at The Wall Group; Makeup by Ozzy Salvatierra for Clarins at Streeters; Manicurist Nettie Davis; Model: Mia Kang at Trump Models; Photography assistants: Jeffrey Vogeding, Kevin Batista; Fashion assistant: Kirsten Layne Alvarez; A$AP Rocky Wears Guess originals x A$AP Rocky Jacket, T-shirt, and overalls; Adidas originals sneakers. Model wears Guess Originals x A$AP Rocky Jacket and tank; Guess Jeans.