Behold Ashley Benson's Quarantine Cake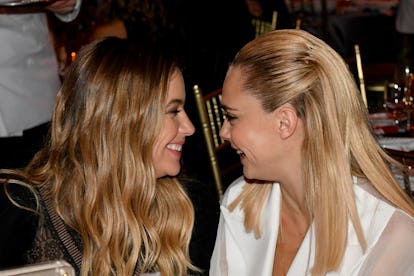 Craig Barritt/Getty Images
Grocery stores have been struggling to keep their shelves stocked, but Los Angeles's favorite health food hot spot, Erewhon Market, has yet to let down Ashley Benson, Cara Delevingne, Tommy Dorfman, and Kaia Gerber. The self-described "quarantine buddies," who've been thriving amidst the global pandemic, made yet another trip to the store on Sunday, where they stocked up on essentials like whipped cream, tea, and Popchips.
Of course, those foods don't offer much in the way of sustenance. Which might be part of the reason why Benson was so delighted to receive a surprise delivery from the producer Holly Wiersma. In one fell swoop, Wiersma expressed her concern for Benson's health and safety by sending her a cake topped off with icing that spelled out the words "stay safe." She also had the pastry printed with an image of a person wearing a dramatic bedazzled gas mask. Could it possibly be an old fashion editorial featuring Benson's girlfriend, Delevingne?
Actually, the cake's star is a different, unnamed model—one who walked the Mexican designer Gianfranco Reni's fall 2010 runway show in Mexico City a full decade ago. As for what that model's doing on Benson's cake, well, that might simply be because the image that made its way onto the quaran-cake is the first result when one Googles "bedazzled gas mask." ("I mean, because when the world is ending, and i have to grab a gas mask, it must be bedazzled and fabulous, or else I can't wear it and i'll just die," noted the Pinterest user who uploaded it.)
Another hint that the model isn't Delevingne turned up on the Instagram account of Emma Roberts, who also received a cake from Wiersma. Perhaps there's a deeper message to the pastry; coincidentally, both Roberts and Benson have worked with the producer on films starring Kevin Spacey that flopped in recent years.
In any case, Benson didn't hesitate to dive in. "Actually screamed cause I'm so happy and maybe I'm going a bit crazy," the actress captioned a video of Dorfman cutting the cake that she posted to Instagram Stories.
Meanwhile, the rest of their quarantine crew also found ways other than their go-to activity—making TikToks—to stay amused. Delevingne, for one, spent a portion of her Sunday filming the actress and occasional quarantine buddy Margaret Qualley accepting Olivia Wilde's invitation to do the so-called hand-washing challenge. "Note** everyone in this house is fortune enough to be able to stay home!," Qualley noted in her caption. Except when they all step out to walk Gerber's dog, that is.
https://www.instagram.com/p/B-D1iXPp-90/
Related: "Should I Go Live Later?": Coronavirus, Celebrities, and the Perils of Instagram Live