It Trend, It Girl: Printed Matter
Budding musician (and high school senior) Asia Chow takes bold patterns in stride.
---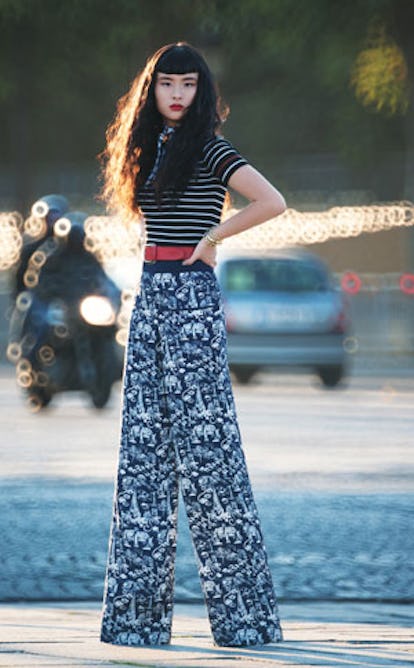 Asia Chow, the 17-year-old daughter of restaurateur Michael Chow, sports a different kind of uniform for her classes at Santa Monica's Crossroads School. The aspiring singer, songwriter, and musician (Chow plays guitar and piano) generally throws on one of countless vintage concert T's, along with baggy, hole-ridden PRPS jeans. For dinner out with her parents, though, she'll dress up her denim with a flowing Givenchy shirt, or slip on a cropped Balenciaga jacket with a newspaper-print lining—not unlike the graphic look she shows off here, wearing a striped Gucci top and Louis Vuitton pants. Then there are her signature bangs. "Only people who know me well know what my forehead looks like," she says, laughing.
Of course, Chow's distinctive style is no surprise considering her background: Her mother, Eva, was a fashion designer, while her father, a former art student, has long been a significant collector—a Jean-Michel Basquiat portrait and an Ed Ruscha mountain painting are among her favorites from his ­holdings—and both Ruscha and Julian Schnabel are frequent dinner guests at the family's Los Angeles home.
Despite her cozy life on the West Coast, Chow is looking to make a move after high school. "As much as I love L.A., university, for me, is a place where you learn not only academically but culturally," she says. "I think the East Coast will push me toward new experiences."
It Trend, It Girl: Printed Matter
Thakoon's cotton sateen pants
A look from the Gucci resort 2012 collection
A resort 2012 look from Céline
Ippolita 18k yellow gold bangles
Hair by Helene Bidard at Artlist; makeup by Morgane Martini at Artlist.