At Drake's American Music Awards After Party, Kendall Jenner, Kourtney Kardashian and Karlie Kloss Do the Mannequin Challenge
The group, all part of Jenner's posse, were a few of the celebrities who made to Drake's after party at new Hollywood hotspot Delilah following the awards show.
---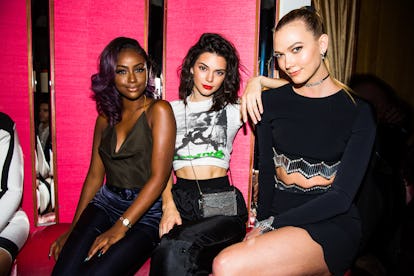 "Is that Kendall?" asked a passerby eyeing the model's table.
On Sunday night following the 44th annual American Music Awards, Jenner – arm in arm with rumored boyfriend, L.A. Lakers' Jordan Clarkson – was holding court and dancing on her booth's plush velvet seating, joined by sister Kourtney Kardashian, fellow models Karlie Kloss and Joan Smalls, and a slew of her familiar friends.
Untouched fried chicken sliders sat on the table, as the posse, drinks in hand, let loose to the hip-hop beats. Soon, Rae Sremmurd's "Black Beatles" played, as much of the room – Kloss and Smalls included – broke into the mannequin challenge, the popular viral trend that's been taking the Internet by storm. At a nearby table, Diplo and Skrillex bro'ed out; Shawn Mendes and One Direction's Niall Horan mingled; and Heidi Klum and Nina Dobrev parsed the show.
"Gaga can do no wrong," said Dobrev, referring to Lady Gaga's performance of "Million Reasons" earlier in the night.
They were all inside Delilah, Hollywood's newest restaurant hotspot and the city's hardest door, and tonight, the setting for the city's best after party, hosted by Drake, the man of the hour, who led with a record number of 13 nominations, winning four in total, including favorite rap/hip-hop artist.
"Me and Nina were on Degrassi together by the way," said Drake, when accepting favorite rap/hip-hop album for Views, which was presented by Dobrev. "I want to thank the city of Toronto, and of course I want to thank the fans and my parents. My dad's here tonight…"
Surrounded by bodyguards, Drake – in rose colored sunglasses and a white sweater – worked the room, making his way to a closed off section, where his father and the OVO crew partied with the likes of Russell Simmons, The Weeknd and G-Eazy, who – at 6'5'' – was hard to miss.
Notably missing, however, was Gigi Hadid, who co-hosted the award show with Jay Pharoah; as well as Zayn Malik, who received new artist of the year; Selena Gomez, who got favorite pop/rock female artist; and Ariana Grande, who was named artist of the year. The show included performances by Bruno Mars, John Legend, Twenty One Pilots, Ariana Grande with Nicki Minaj and Green Day.
"No Trump, no KKK, no fascist USA," chanted Green Day, when they took the stage, singing "Bang Bang".
"It was powerful," said Julien Christian Lutz, better known as Director X, who directed Rihanna in her video for "Work", featuring Drake. "A powerful message. It definitely stood out, for sure."
In a table of their own, Ty Dolla Sign chatted with Ally Brooke, Lauren Jauregui and Dinah Jane Hansen of Fifth Harmony.
"It was an amazing lineup," said 19-year-old Hansen of the award show, where the group performed "That's My Girl".
And was she enjoying herself?
"Hell yeah, it's Drake's party!" she exclaimed.
Soon, the entire crowd belted out a sing-along of Drake's "Fake Love". And a little past 1 a.m., Jenner was in the ladies' room reapplying red lipstick, before making her exit, posse in tow.
Inside Drake's American Music Awards Star-Studded After Party
Justine Skye, Kendall Jenner, and Karlie Kloss.

Rony Alwin
G-Eazy, DJ Carnage, Riff Raff, Diplo, and Skrillex.

Rony Alwin
DJ Carnage, Dennis Graham, G-Eazy, and TK 5.

Rony Alwin
Jordan Clarkson and John Terzian.

Rony Alwin
G-Eazy, DJ Carnage, Riff Raff, and Skrillex.

Rony Alwin
G-Eazy, DJ Carnage, Riff Raff, and Skrillex.

Rony Alwin
Banks Prepares for a Magical Guggenheim Gala, with Dior's Maria Grazia Chiuri as Her Fairy Godmother