The Truth About At-Home Micro Needling, from Irina Shayk's Go-To Facialist
Ildi Pekar shares her best skincare tips.
---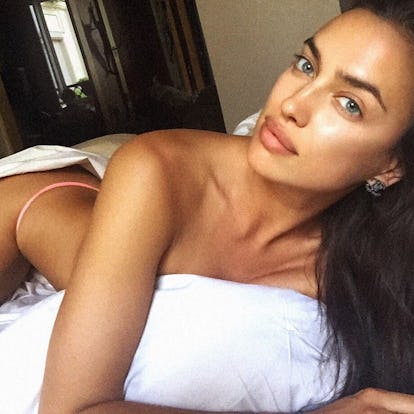 "Some people buy shoes, I buy machines," said Ildi Pekar, the facialist known best for her legendary body-firming treatments and skin-plumping treatments beloved by the likes of supermodels Miranda Kerr, Lindsay Ellingson and Irina Shayk.
Pekar, who was born in Hungary and is based in New York City, has a spa on East 49th Street, has always been on the cutting edge when it comes beauty products, like her new, at-home micro-needling tool and her cannabis oils (which she uses in all of her facials). "I just came back [from Europe] with all these new things, I'm so excited to try them," she said.
Here, Pekar explains her most recent finds and newest treatments, from at-home micro needling to alkaline therapy to DIY apple face masks.
You just launched your new at-home micro needling tool. What is it? Can you explain?
As a skin therapist, we are always looking for ways to communicate to the skin. That is exactly what micro needling is. A collagen induction technique to create tiny "injuries" to the skin (think as if you have a small cut — the skin starts to heal itself right away) — that's the science behind microneedles. We are sending tiny punctures to the skin to communicate with it that we need more production of collagen and elastin to renew the skin cells and heal the cell damage. Most of my clients see a result within the first week of using micro needle to reverse sun damage and heal pigmentation in the skin.
How big are the micro needles?
We use high quality titanium needles for the best application. I recommend using it one to two times week for skin maintenance. The micro needles for home use start at 0.5mm and go up to 2mm in length. The longer the needle, the deeper the penetration. I recommend starting with 0.5mm when you first introduce micro needling to your skin. You need to work up to 2mm for home use. At my salon, we have even longer needles to an even better response.
Does it hurt? What does it feel like?
It does not hurt, but it could feel a little uncomfortable at first. You have to move in slow motion with the right pressure and ideally work over your areas of concerns the most. After you roll, it will feel like you have a slight sunburn and you do feel a little tightness in the skin. That is the stimulation in the skin which is a good thing.
Is it dangerous for people to be doing at-home micro needling to themselves? What should they watch out for?
As long as they have the proper needle, it is not dangerous. They should do this on clean skin that has been dried. If they are doing this before bed, I would advise to have clean pillow cases as well.
If someone is also doing laser treatments at the same time, do you suggest they avoid micro needling?
Absolutely. We do not want to over stimulate the skin or aggravate it by doing 'too much' and yes that is a thing. I know doing these treatments are very cool and exciting but you need to space our treatments to avoid irritating the skin.
What else should people use at home in tandem with the micro needling tool?
A tissue repair serum. This micro needle can help penetrate the product deeper into the skin. They both work so well together to address what your concerns are. They are simple and natural steps you can do at home to reverse and prevent cell damage. My Tissue Repair Serum has CBD Oil which helps to reduce inflammation in the skin, as well as restore balance to the skin.
You just got back from Europe with a bunch of new beauty gadgets that aren't here yet in the States. What are some of those gadgets and what do they do?
My new Alkaline Therapy! It's a machine that generates water based negative ions which helps address so many concerns. This is the treatment of the future. Skin problems are not stop signs, they are guidelines. Your body is so smart and talks to you every day. Feeling and seeing symptoms on your skin and body are signs of communication from within. It's taking the time to read it is what we have to learn. As people, we have to know that skincare is healthcare and it's an inside job.
My new alkaline therapy features the healing benefits of Negative Ion Infusion. A simple, quick, and effective appointment that can make all the difference. We begin this treatment with applying a electrolyte gel which contains vitamins and minerals. Afterwards, you are dressed in a elastic pouch where we create an environment for your body to receive the full exposure of the water generated negative ions. For your face, we will place a clear helmet over it to create a separate environment for the negative ions to generate in. The negative Ions come into contact under the skin where it joins the existing acids. All this results in neutralization of acid. When we neutralize acid in the body, it becomes more alkaline creating improved and healthier lifestyles.
What one of your favorite at-home facials to help combat winter skin?
This is apple season! When I went apple picking last week, I did this DIY mask with my daughter at home. It's very refreshing mask, the natural acids in the apple can be exfoliating while the honey is very hydrating. You can even rinse with lukewarm chamomile tea for a more soothing effect. Perfect for winter. The recipe: Wash your apples before doing this. Shred the apple with the skin on. Add two teaspoons of raw honey. Put it on your skin for 10 to 20 minutes.
Colloidal silver is buzzy right now. How are you working with colloidal silver?
I use my thermal water tonik, which has colloidal silver in it. It's natural antibiotic, anti-inflammatory and anti-fungal properties make it an excellent selection to prepare the skin for all of the facials I provide here. When we provide our deep cleansing facial (where we steam the skin and do manual extractions). We use it as a third cleansing step to prep the skin and we use it after the extractions as well to reduce redness in the skin.
I even use this to prepare the skin for LED Light Therapy. It works well with LED to give you a nice glow. For skin-related use – it's great for acne/breakouts and reducing pimples. Even if you get fungus, cuts, or scrapes – this is a great way to reduce inflammation on the surface of the skin as well.
What new ingredient or ingredients are you most excited about working with right now?
My new Tissue Repair Serum with CBD Oil derived from Cannabis Plant. It's magic to work with because it calms down inflammation in the skin so well. It's like magic on the skin. I love using it in my facials and clients take one home with them to use in between visits as well.
So many people are using CBD in beauty products right now. What do you think is the future of cannabis beauty?
I believe it will become bigger in the beauty industry once people start using it and feeling the difference with the skin. Good quality CBD oil is very expensive, I think a product that has CBD with a low cost may be using smaller doses or not using the best quality of CBD oil. There are different process that they would have to go through as well to determine the potency of this ingredient.It's going to be a huge breakthrough in skin care and in medicine for the body and we are always finding new and better ways to consume this ingredient for healing purposes.
See Photos: 6 of the World's Most Impressive Spas
Gilles Bensimon/Trunk Archive
A meditation spot at the Farm at San Benito.

Courtesy of the spa
Vivamayr's relaxation room.

Courtesy of the spa
The view of Lake Altaussee, near Vivamayr.

Courtesy of the spa
Aro Ha's spectacular surroundings.

Courtesy of the spa
The grounds at Aja Malibu.

Courtesy of the spa
The grounds at Aja Malibu.

Courtesy of the spa
The Alpha Lounge at Sha Wellness Clinic.

Courtesy of the spa
Sha's hydrotherapy-circuit room.

Courtesy of the spa
Watch: Irina Shayk Reveals the Secret to Looking Great in Photos