Everything You Need for the Most Sublime At-Home Facial
Georgia Louise, the aesthetician to Emma Stone, Gwyneth Paltrow, Karlie Kloss, and more, breaks down the basics—including yoga for the face and neck.
---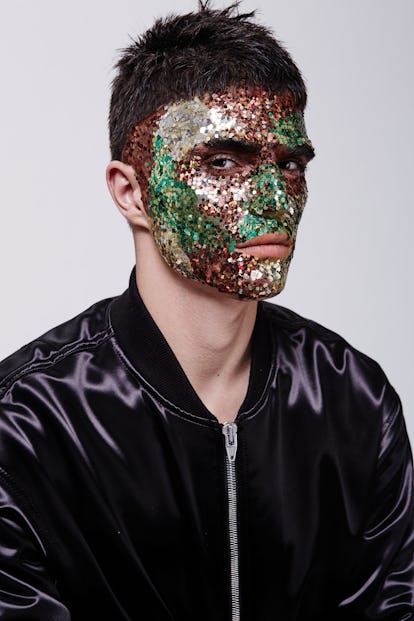 The world may be at a standstill, but somehow, it's possible to have the latest, hailed-as-the-second-coming face serum from the Swiss Alps delivered straight to your door. Still, no matter how much access we have to any sought-after beauty product or tutorial we must decipher quality from quantity—especially now.
A luminary in the skincare world, celebrity aesthetician Georgia Louise has built one of the most respected careers based on her aptitude for consistently finding and fostering the most cutting-edge skin formulations, techniques and gadgets. In addition to having a stellar Hollywood and fashion following (Cate Blanchett, Emily Blunt, Emma Stone, Gwyneth Paltrow, Linda Evangelista, Karlie Kloss, Behati Prinsloo, the list goes on), the famed skin expert, famous for her "lift sculpt technique" facials, consistently rolls out skin advice that is not only practical but effective for her loyal clients.
We consulted with the skin authority for her seasoned tips to achieve the most optimal in-home facial. Here's her breakdown on the worthiest facial massages techniques, products and skin tools.
Let's start with the face massage. This has become a necessary "to do" in order to maintain and circulate skin health and appearance. Give us the lowdown. When are you supposed to implement the skin massage? Before cleansing, after moisturizing, or at a completely different moment?
Massage your face when you clean your skin first thing in the morning and at night. My recommendation is to use a lovely organic cleansing oil such as La Mer's The Cleansing Oil. With this, you want to use lots of stimulating massage techniques to awaken and get the blood flowing. Incorporate some face knuckling by gently rotating your knuckles across your face. Finish with some Gua Sha by using my Lift + Sculpt Butterfly Stone or a rose quartz roller. At night, work on lymphatic drainage to help remove all the daily fluid build-up, dead and damaged skin cells and toxins away from the skin. Start at the clavicle and pump on each point 10 times, working up the face. I love to mix my serums at night; I start with water-based serums including BR colostrum and BR placenta. Next, I massage my sleeping beauty oil into my skin. After I have applied my bespoke face cream, I finish off with La Mer Concentrate to seal it all in.
For all the facial self-massaging novitiates new to the game, is there also a visual guide? A video we can watch, or a particular in-home tutorial to explain the basic techniques that work best for skin?
Here's what I suggest.
This is an easy breakdown of the 45-minute guide for an at-home quarantine facial.
Step 1:
Cleanse with an oil, then a cream, to melt away makeup and remove unwanted dead skin cells while keeping the lipid barrier intact. Next, choose either a foam or cream-based cleanser. Creams are more gentle and good for dry/dehydrated skin and gels for combination/ oily skins.
Step 2:
Apply a gentle enzyme or a clay mask and steam for 10 minutes. Steam by using a bowl filled with hot water and some sliced lemons or oranges and pop a towel over your head. Select an enzyme with a blend of chemical exfoliants such as alpha hydroxy acids and beta hydroxy acids. My top choices are Biologique Recherche P50W for sensitive skin, Dr. Barbara Sturm's enzyme powder, the Revival Mask by Environ, and my own Georgia Louise Enzyme Peeling Mask.
Step 3:
Give yourself a 10-minute facial massage by following the instructions below. Glide from the center and out firmly, begin at the chin and gently stroke outward to the ears. Next, the cheeks to the temples, then the forehead to temples. Then repeat—but replace the glides with some pumping movements. Pick up your jade facial roller or Gua Sha tool and work over the face.
Step 4:
Pick up your favorite beauty gadget and give yourself a 10-minute overhaul. For brightening, use an LED light source gadget such as my LED Glo Light Pro. For lifting, use the NuFace Trinity Pro. For pigmentation, fine lines and wrinkles, use my Hollywood EGF.
Step 5:
Apply your face cream.
Can we explore some of the stronger in-home beauty treatments like peels? Thanks to home confinement, downtime and sun exposure aren't issues affecting our skin. Which ones are you particularly fond of right now that we can take advantage of, given the current living situation?
Invest in an LED gadget, its best to do four times a week as an intensive course for two weeks, for 10-20 minutes per session. I would also step up enzyme peel use. For treating a deep skin issue try the Blue Peel by Obagi.
This brings up a silver lining for beauty junkies. Even though we are quarantined, for the most part we're still able to buy new skin tools online without difficulty. Which gadgets do you love to help with a better overall complexion?
For your complexion, use the Dermapore Pore Extractor & Serum Infuser My Hollywood EGF device, which I mentioned before, is perfect for treating discoloration. And to hydrate, throw on a Georgia Louise Pulse + Glo Aqua sheet mask.
Speaking of the lack of sun exposure, any vitamins or supplements that you love or recommend taking daily for our skin and overall health right now?
I am a big fan of Dr. Nigma. She makes really good quality supplements. I love her vitamin D, which everyone needs extra help with these days. For immune boosting, try Livon Labs' Lypo-Spheric Vitamin C.
Another favorite we must bring up given the current situation is face masks. Let's talk skin masks. Which are your favorites and why?
I love a good cream mask; you really can't beat Biologique Recherche for the quality. My all-time favorite is the Vivant mixed with the Masque VIP O2. I add a pinch of baking soda to purify, balance, and brighten the skin, which helps prevent against hyper-pigmentation that arises post-acne.
Do you have a favorite, effective at-home DIY mask you can recommend for our readers to make?
Yes, a very effective oatmeal and yogurt mask.
Combine 1/2 cup hot water to 1/3 cup oatmeal, wait for it to mix and soften, then apply 2 tablespoons of Greek yogurt and 2 tablespoons of Manuka honey. Apply a thin layer of the mask to your face, and let it sit for 10 to 15 minutes.
Lastly, as you know, skin below the neck should not be overlooked during these moments of self-care isolation. What's a skincare routine for day or night that you can recommend which benefits the body?
To be honest, you should carry your products down to your neck—think of your neck as part of your face to get into good habits. If you are looking for neck-tightening treatments, I am a big fan of the La Mer neck and décolleté concentrate. To take proper care of your neck, cleanse it the same way you would treat your face. Apply your serums and massage upward, then try a little face yoga. Start with the baby bird pose: press the tip of your tongue to the roof of your mouth, then smile and swallow while pointing your chin at the ceiling. Repeat these 15 times. This will engage your sternocleidomastoid muscles to tighten up your neck.
Related: How to Survive Pandemic Stress, According to a Celebrity Dermatologist