At Le Carrousel in Paris, Cabaret for the Fashion Set
Opened in 1926 by Guiseppe Pepito Abatino and Josephine Baker in the Pigalle neighborhood of Paris, Le Carrousel gets a new life thanks to Carla Clerico and Le Baron co-founder Lionel Bensemoun. Plus, a party during Paris Fashion Week, natch.
---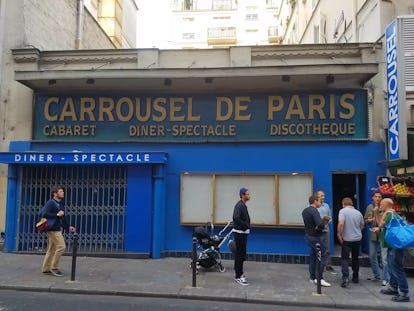 Courtesy of Le Carrousel.
Around the corner from the Moulin Rouge on Rue Pierre Fontaine is a nondescript blue building in the grungy and growingly trendy neighborhood of Pigalle – Paris' long-standing red light district. At night, however, a crowd gathers and the lights come on: "cabaret," "diner-spectacle," "discotheque".
This is Le Carrousel, which opened in 1926 as a cabaret under the name Chez Josephine, a gift from Guiseppe Pepito Abatino to his partner, renowned dancer Josephine Baker. In the 50s, it became the city's first transexual cabaret; in the 70s, it was a typical bar of the times in the area, where 50 or so young women would greet wandering guests – businessmen and tourists – getting them drunk on champagne; and in the 80s, it returned to its roots as a functioning cabaret under the name Carrousel de Paris.
"It's been many different things," says co-owner Carlo Clerico, who took over a year ago, partnering with nightlife maestro and Le Baron co-founder Lionel Bensemoun.
"He's the expert," says Clerico of Bensemoun's ability to turn each of his projects into hot spots. "I'm much more of a show producer and cabaret operator."
In fact, Clerico's family has been in the business for over 70 years. In 1946, his grandfather started Le Lido in the Champs-Élysées; his cousin owns the Moulin Rouge.
"I was looking for something small," he says of the intimate space. "There's a need for that. I visited different places, but this is really the most functional one I've seen."
The two-level cabaret has been largely left untouched save for a new, bigger bar. They've stripped the worn carpet, which they plan to replace with wooden floors. The upstairs, draped in red velvet with globe lights and reflective mirrors, holds a stage, booth seating, and in the center, a dance floor. Downstairs is a maze of narrow halls with three dressing rooms, the largest of which – with bubblegum pink walls – will be turned into a fumoir.
While they've hosted a handful of parties so far, particularly during Paris Fashion Week (Wednesday night's party brought out the likes of Hari Nef), they're officially launching as Le Carrousel on Sunday, when they'll put on a VIP dinner and after party, thrown by Brooklyn's own mid-century-style cocktail bar Loosie Rouge in partnership with Unemployed Magazine.
"We'll open and feel the place and how people react, see what fits the best, and in terms of revenue, see how it works," says Clerico of their relaxed approach towards programming. "No plan."
Expect doors to open around 7 or 8 p.m., followed by a show or concert. At around midnight, it'll turn into a dance club, and in true Parisian nightlife fashion, stay open until 6 a.m.
"Cabarets were places people went to relax," said Clerico. "You don't have to dress up like in the theater. You can see a show, but you can also have a drink. I think people, more than ever, need to relax. When they open the door, they come into a different universe. Something that is fun, not a place where people come to show off. The show is on the stage."
Calling Card During the day, you'd easily pass by without looking at it twice, but at night it's impossible to miss the brightly-lit "Carrousel de Paris" sign outside.
The Door "We want to be open…the place is small, so there must be a selection," says Clerico.
Tribes Expect the La Clique crowd: Musicians, models and fashion insiders.
VIPs Hari Nef, and the likes of Catherine McNeil, Loulou Gainsbourg, Anna Ewers and Charlotte Casiraghi are expected at Sunday's official opening, hosted by Loosie Rouge and Unemployed Magazine.
Music Rock, electro.
Drinks €8 for beers, €10 for well drinks, €12-15 for cocktails. For food, there will be light, tapas-style share plates.
The Basics 40 rue Pierre Fontaine, 75009 Paris Open "at least 5 days a week, could be 7 days. Sunday is very quiet around here, so there's a need," says Clerico.
Watch Irina Shayk, Stella Maxwell, and Joan Smalls model fall's best fashion: