This Season, Athletic Gear and Ready-to-Wear Are On the Same Playing Field
Riccardo Tisci, Tory Burch, and Olivier Rousteing are just a few of the designers getting in on the athleisure trend.
---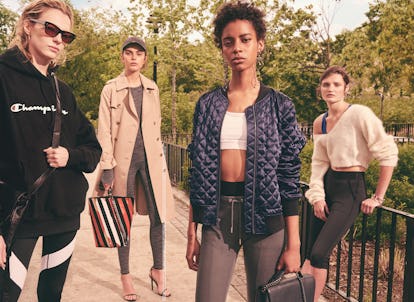 "Locker room chic!" gushed the fashion press in 1980 when Norma Kamali debuted what many consider to be the first-ever "athleisure" collection. The sporty sweatshirt tops and skirts, which have since become embedded in Kamali's design DNA, immediately struck a chord during that fitness-crazed decade. They were also a harbinger of things to come: These days, athletic wear has moved well beyond the confines of exercise classes and onto the bodies of fashion's front-row fixtures, who pair fur coats with their Nike Flyknits.
"Everything has changed," says Sarah Rutson, who, as vice president of global buying at Net-a-Porter, oversees the site's athletic arm, Net-a-Sporter. "We're dressed for speed and comfort now, and there's a cool factor to the look. I don't think we're ever going to go back."
Indeed, it is the height of chic to dress down, thanks in part to an ever-growing group of designers inspired by today's woman-on-the-go. Among them: Givenchy's Riccardo Tisci, who last month introduced NikeLab x RT, his first performance-wear line, with Nike. Running the gamut from crop tops to baggy basketball shorts in black, white, and dark florals, the 30-piece collection is geared toward those who want to break a sweat in style—or at least look like they did. Derek Lam is bridging a similar gap between function and fashion with Derek Lam 10C + Athleta, which features geometric-pattern and solid-color separates in fabrics typically reserved for ready-to-wear, like leather and cashmere. Meanwhile, Cushnie Et Ochs is maintaining aesthetic fluidity between its formfitting runway offerings and its recently released jet-black leggings and cut-out sports bras, done in collaboration with the high-end athletic-wear retailer Bandier. "We wanted to create the little black dress of activewear," codesigner Carly Cushnie says.
The tailored, '70s-inspired pieces in Tory Burch's Tory Sport line are as street-ready as anything from her main collection—yet they are, in fact, designed for heart-elevating activities. Sleek check-print golf skirts are equipped with deep pockets to keep scorecards, and kicky white-and-navy tennis skirts are made from a moisture-wicking stretch tech piqué. Burch concedes that her biggest challenge has been developing high-performance fabrics that mesh with her decidedly classic aesthetic. "I love when something looks like ready-to-wear but is actually water-resistant," she says.
Hungry for a piece of the performance-wear pie, A.P.C.'s Jean Touitou invested last year in Tyler Haney's New York–based athletic label, Outdoor Voices, and set to work on a collaboration fueled by their mutual dislike of loud logos, neon colors, and plasticy-feeling fabrics. At the debut during New York Fashion Week, heather gray hoodies and jogging pants were styled with A.P.C. trenches and knee-high leather boots. "The idea of wearing different clothes to and from workout class drives me nuts," Haney says.
Despite the increasingly heated competition in the athleisure field—Olivier Rousteing, Jun Takahashi, and Kim Jones have all teamed up with NikeLab—designers have managed to stay as cool as their collections. "When things get stressful in the office, we have this saying," Haney says. " 'It's just spandex!' "
Photograph by Stas Komarovski. Styled by Stella Greenspan. Hair by Edward Lampley at Bryant Artists; Makeup by Emi Kaneko for Yves Saint Laurent Beauty at Bryant Artists. Model: Olivia Jansing at next Management; Amelia Rami at trump models; Anja Cihoric at Supreme Management; Zlata Semenko at Muse Management. Digital Technician: Jeff Pearson. photography assistants: Michael Tessier, Jordan James. fashion assistant: Chris Lee. Fashion credits: From left: Champion Life hoodie; NikeLab x RT tights; Oliver Peoples The Row sunglasses; Jennifer Fisher earrings; Céline bag. A.P.C. trenchcoat; A.P.C. x Outdoor Voices bodysuit and leggings; '47 hat; Proenza Schouler bag; Jimmy Choo sandals. Tory Sport jacket; NikeLab x RT bra; Topshop Unique pants; Derek Lam 10C + Athleta shorts (underneath); Louis Vuitton earrings; Akris bag. H&M Studio sweater; Tory 
Sport bra; Derek Lam 10C + Athleta pants; Jennifer Meyer earrings; Isabel Marant cuff.
Watch all the episodes of "The Myth of Orpheus and Eurydice," a four-part film series by Gia Coppola, here. Produced for Gucci by W magazine.
Watch all the episodes of "The Myth of Orpheus and Eurydice," a four-part film series by Gia Coppola, here. Produced for Gucci by W magazine.