Why Atlantic City Is a Hotspot for Cher, Britney, and Tons of Models This Summer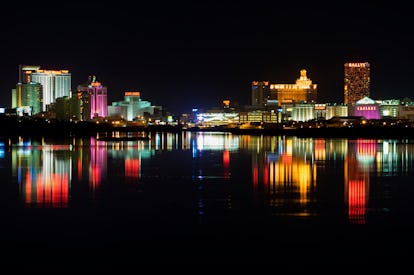 Jerry Driendl
Forty years after the first casino opened in Atlantic City, the preferred vacation destination for East Coasters who can't decide between a beach getaway or one that involves gambling and entertainment, the city suddenly finds itself not only resurgent but a frequent stop for celebrities this summer. It's current top resort, the Borgata Hotel Casino & Spa, celebrated its 15th anniversary in blowout fashion with a summer full of concerts from A-list entertainment including Britney Spears and, this weekend, Cher. Meanwhile, the Ocean Resort, a recently renovated resort with a new name, opened its freshly painted doors, and the Hard Rock Hotel & Casino made it's debut.
Here, take a look at all the stars who brought their mini-empires to the boardwalk this summer to remind you that the central Jersey city is on the up.
Spears brought her Piece of Me show, her first major tour in years, to the Borgata's event center, a venue so intimate that when a fan shouted out "Who is it?" before the infamous "It's Britney, bitch!" line in "Gimme More," the pop star heard it and couldn't help but laugh. As it turns out, the tour wasn't just Britney's return to the road; it also served as the Spears family summer vacation as she also found time to enjoy the beach and a go-kart track with her two sons. "Beach, ice cream and go-karts!!!" she wrote. "What more could we ask for? Having so much fun here!"
[#undefined: undefined]
[#undefined: undefined]
[#undefined: undefined]
Halsey grew up in nearby Edison, New Jersey, and also brought her show to her home turf at the Borgata. Here she poses outside of the casino's Premier nightclub.
Camila Cabello also shared shots of her own concert at the casino.
Kourtney Kardashian stepped out in a pink blazer to host the opening of the Sugar Factory at the Hard Rock Resort & Casino.
Alessandra Ambrosio christened the deck of the Ocean Resort & Casino.
Heidi Klum and DJ Kaskade partied at the HQ2 beach club.
Model Shanina Shaik headed down toward the boardwalk.
Model Leomie Anderson, meanwhile, checked out the slots at the Ocean Resort.
Model Kevin Hubsmith took in and provided some views.
And while Cher hasn't uploaded any evidence of her weekend in AC just yet, it certainly looks like she put on a great show.