ATTO BOY!
Julien ­Dossena, a Balenciaga alum, breaks out on his own.
---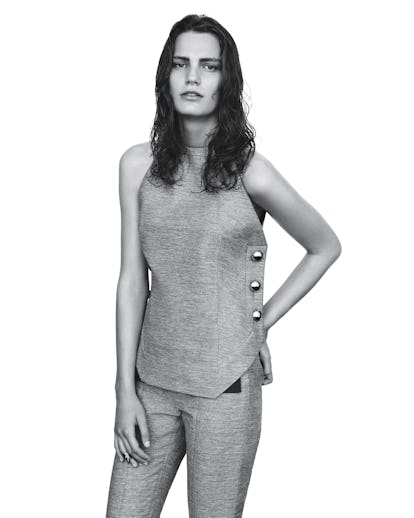 Photographer: Ward Ivan Rafik Stylist: Elodie David Touboul
Judging by the reception that Atto, a new French label, is receiving, it's safe to say that Nicolas Ghesquière trained his staff well. The brainchild of three ex–Balenciaga staffers who went freelance after Ghesquière's rather abrupt departure last year, Atto aims to give women "a complete and articulate wardrobe," says Julien ­Dossena, 30, the brand's design head, who was Ghesquière's senior designer at Balenciaga and has just signed on as the new creative director of Paco Rabanne. After a low-key debut during the haute couture shows in July, Atto has already landed prime international accounts: Printemps, Harvey Nichols, Dover Street Market, Louis Boston, Saks Fifth Avenue, Kirna Zabête, and the Webster.
The first collection—around 30 Euro-preppy, nouveau-mod looks—was inspired by "designers like André Courrèges, who cleverly mixed bourgeois style with a radical fashion proposition," ­Dossena says. Atto's sharply tailored pieces, some cut from crisp Japanese poplins and twills, are designer material, certainly, but the price tags, which range from $595 to $2,295, reflect the label's desire to be more inclusive than exclusive. Among the instant favorites are a sleeveless white shirt with a bandeau belt—as well as a silver sequined turtleneck and a khaki cutaway wrap skirt, which have already made the cover of French Elle. "A lot of great fashion nowadays is super­designed, with tons of prints and special pieces," Dossena notes. "But where can the customer find just a beautiful shirt or a classic suit?"
Like the clothes, Atto's business model is in line with Dossena's pragmatic vision. The company, which is entirely self-financed, functions like a collective, with Dossena, his fellow designer Lion Blau, and the studio design consultant Florent Buonomano at the core. Friends and colleagues will be brought in as needed to fill the gaps, whether in knitwear, product development, or production. And instead of following the increasingly outmoded fashion calendar, Atto will cater to digital-age attention spans with monthly deliveries to stores. Creative collaborations with other brands also figure big in the team's plans. "Everyone is in on the adventure," Dossena says enthusiastically. "We work in the evenings and on the weekends. It's a fun atmosphere."
Hair by Olivier de Vriendt at Artlist; makeup by Kathy le Sant at Walter Schupfer Management; manicure by Dharlene Doquard at Artlist. Model: Lena H. at Viva Model Management. Photography assistant: Christophe Schumaker. Fashion assistant: Josephine Dorval. dossena: Jerome Bonnet; Lookbook: courtesy of Atto. Model wears Repossi ring.