Aubrey Plaza and Alison Brie Play Adulterous Nuns in The Little Hours Trailer
Former sitcom darlings Aubrey Plaza and Alison Brie team up for The Little House, a foul-mouthed 14th century comedy.
---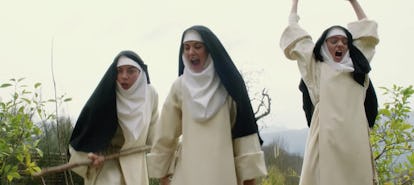 Aubrey Plaza and Alison Brie have had similar career paths. Both broke through with supporting parts on beloved Thursday night sitcoms on NBC: Plaza as the iconically laconic April on Parks & Rec, Brie as the Tracey Flick-ish perfectionist on Community. Both have prestige cable dramas on their resumés: Plaza just wrapped up the first season of Legion, while Brie played a suffering wife on Mad Men. They're both now finding their way in the movies as well, so it was probably only a matter of time until the pair teamed up on the big screen. In fact, maybe the only surprise is that they're doing it by playing a pair of nuns.
Foul-mouthed, horny, possibly drug-addled, bisexual nuns, of course, but nuns none the less.
The pair costar in The Little Hours, a Sundance hit where they also share the screen with Brie's real-life husband, Dave Franco, who plays a servant who has run away from his master (played by Plaza's fellow Parks & Rec vet Nick Offerman). Kate Miccuci, Molly Shannon, Fred Armisen, Adam Pally and John C. Reilly also make appearances.
Girls' Jemima Kirke also pops up, too, though she's barely in the slightly NSFW red band trailer released today:
In case you have that song stuck in your head, it's Junglepussy's "Bling Bling." You're welcome.
While the flick seems like it could fall into danger of being a good idea for a SNL sketch that someone tried to stretch out into a full-length feature, the movie does have a somewhat surprising inspiration: It's based on a story from the The Decameron, the famous collection of 14th-century Italian novellas.
It was also a big hit at Sundance, and racked up a solid 86 percent "freshness" rating on Rotten Tomatoes thanks to festival reviews.
It's the product of writer and screenwriter Jeff Baena. Once best known for co-writing David O. Russell's I Heart Huckabees, Baena has struck out on his own with a series of indie comedies over the past few years, all featuring Plaza in one way or another, probably because the pair has been dating for several years now. (Yet another thing Brie and Plaza have in common; they both went to work with their partners on this one).
The film is set for release on June 30th.
Related: Aubrey Plaza Plays an Instagram-Obsessed Stalker in the Ingrid Goes West Trailer
See What's Trending in W Video: