Aubrey Plaza Is at Her Weirdest in the Trailer for An Evening With Beverly Luff Linn
It's an "acid trip," according to the actress.
---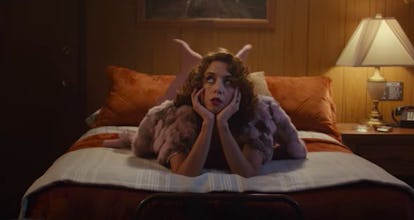 youtube
Aubrey Plaza is one of comedy's most lovable screwballs, and her latest film might be her weirdest role yet. Today, the new trailer dropped for An Evening With Beverly Luff Linn, and it is truly something.
Plaza is perfectly deadpan throughout the clip, which shows her character forging a relationship outside of her marriage. Per the film's description, "After getting fired by her scheming husband from his cappuccino shop, dissatisfied Lulu Danger (Aubrey Plaza) is stunned when a TV commercial for 'An Evening With Beverly Luff Linn for One Magical Night Only' reveals a mysterious man from her past (Craig Robinson). When Shane and his bumbling cohorts steal the cashbox from Lulu's adopted vegan brother, Adjay (Sam Dissanayake), specialist Colin (Jemaine Clement) enters the fray to retrieve the stolen funds. But Lulu seizes the opportunity to run off in search of her mystery man—and events only become stranger from there. This is a story of love, theft, athletic swimming, and a magical, magical event."
The "love story" was one of the reasons Plaza was so drawn to the film, as she revealed to IndieWire. Yet her costars had a different idea of the project, helmed by the Greasy Strangler director, Jim Hosking. "I didn't know it was a love story," Clement told Deadline. "I thought it was a bunch of people being unpleasant to each other."
"The whole thing felt like a weird dreamy acid trip, or something," Plaza told Deadline. "I think we all committed to our characters and to the story."
It was the director, though, who really sold her on the film. "I read the script, not having seen The Greasy Strangler and not really knowing anything about Jim," Plaza told Movie Maker. "Then I watched his first movie and thought it was completely insane, something I had never seen before. It was like it hacked into my 12-year-old sense of humor. Then I started researching Jim, and I remember the moment it clicked for me. I went on his Vimeo page, and I was watching a bunch of these weird short videos he made. There's one called 'Doctor,' a two-minute video where a woman comes into a doctor's office and says that she wants a mustache. Then, the doctor reveals that he has a mustache on his butt. It's really stupid but there was something about it that made me laugh so hard. I watched it over and over again. I couldn't shake it. I decided, I'm gonna do this."
The rest of us can witness the weirdness on October 19.